After hosting me for a delightful weekend in Norway (the beautiful weather was all due to me, by the way) Alex did me one more favor by waking up early on Sunday and driving me to the airport.
I got hassled a bit going through security. The line I chose was slow (I think they were using it for training) and my laptop bag full of wires and other electronics merited some extra attention. Still, it is hard to get upset when the security officer could moonlight as a Victoria's Secret model.
I made my short connection through Oslo with little issue and arrived in Nice around noon.
Now, Nice is on the French Riviera, and it is quite busy at this time of year. In addition to the Telemanagement Forum conference, there is also the Monaco Formula 1 race and the Cannes film festival going on nearby. This means that it can be very hard to find a place to stay that doesn't cost a ton of money.
There was some debate within the OpenNMS Group about which of us would be attending the conference, so I didn't attempt to make any reservations until late, and that's when I found that most of the inexpensive hotels had been booked.
Thinking out of the box, I started looking for "holiday" rentals. These are local apartments that can be rented by the week. I found a number of websites that managed such places, but only when I stumbled upon a site called the "Riviera Rental Guide" did I find one with the availability listed on the page. Others required you to inquire, and the few places I asked about were all booked.
I found an affordable three bedroom place not far from the conference and booked it. I quickly received an e-mail confirmation with lots of details. Unfortunately, the only downside to the experience was that I had a number of questions and when I contacted the e-mail address on the confirmation letter I got no reply.
When I was in Norway I was going to call, but then I received a letter from Sarah, the local agent in Nice. She was extremely responsive, and told me, to my great relief, that the apartment was equipped with Internet access (as well as a washer/dryer and other amenities). I met her associate Gosia at the apartment and the check-in process was quick and painless.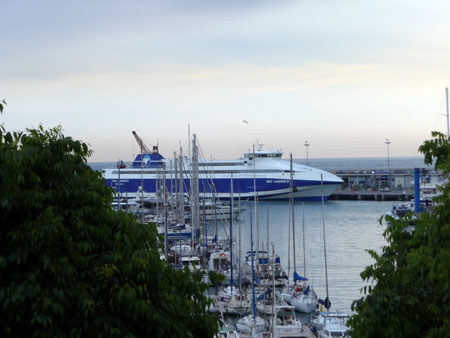 The apartment itself is awesome, with great views. Situated at the top of Nice Port, it has a decently sized eat in kitchen and four enormous rooms along the road. The largest is a living room with a flat screen television, and the others are bedrooms. There is only one bathroom and it is quite small, but larger than some I have used in Europe.
In addition, via e-mail, Sarah has provided lots of information about places to eat, places to shop, and how to get around the area by bus and train.
Based on this visit, I would highly recommend their services to anyone coming to the area.
Craig arrived around 9pm (there was some confusion as to what time he was to get here and I thought he might have been impacted by the ash cloud) and we went down to a nearby Irish pub for dinner. Craig wasn't too keen on eating Irish food in France, but as the most crowded place in the area he thought it must be good (it was).
Then it was time for some much needed sleep. The apartment is right on a busy road, so it can get loud, but that didn't bother me at all.