I have yet to decide whether or not Patrick Rothfuss is an asshole.
I know that sounds like a mean thing to say, but I have my reasons which I'll get to soon.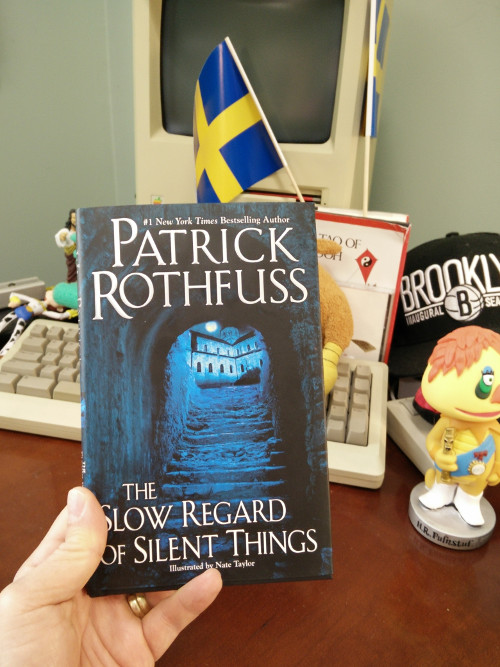 I was introduced to Rothfuss through his first novel, The Name of the Wind. Since that can get tedious to type, allow me to abbreviate it TNotW.
TNotW is the first book in a trilogy. It concerns a near mythical figure named Kvothe, and it is one of the best novels ever written in the fantasy genre, or any genre for that matter.
At least one of my three readers is asking themselves why I would write about fantasy literature on an open source blog. One reason is that open source tends to be a geeky thing and so is reading fantasy, but the other thing is that it helps me think about the future. As the third law of Arthur C. Clarke states "Any sufficiently advanced technology is indistinguishable from magic," in my mind anyone who wants to create advanced technology must first start with "I want to do magic. How should I begin?" Reading fantasy allows me to think in different ways that I find both enjoyable and useful.
Anyway, in TNotW Rothfuss introduces his magic system. In the best fantasy there are rules that both empower and limit the characters, and I really like his. Called "sympathy", magic in his world requires three things: a link, a source of energy and strength of will.
For example, suppose you wanted to move an iron skillet off of a fire through magic. First you would need some way to link what you wanted to move with something you could easily manipulate. In this case the best thing would be a small piece of the skillet itself. That would form a very strong link. Barring that, you could use any piece of iron, but that link would be weaker. Weaker still would be a non-ferrous metal, etc.
So let's assume you have a small chip of the skillet in your hand. You would then need a source of energy. The bigger the magic, the more energy you need (i.e. rules). In this case you could probably use the heat from the fire itself.
Finally, you would need strength of will to connect your piece of the skillet to the whole thing. This is the hard part, as you basically have to imagine, with the full weight of reality, that the small part of the skillet you hold is the skillet itself, so when you move your piece, the skillet will move.
I'm oversimplifying but you get the gist. In TNotW Kovthe starts to learn about sympathy and is admitted to The University, a place where its principals are studied and taught. Out of them comes a form of engineering, a form of medicine, a form of chemistry, etc.
However, in addition to this sympathetic magic, there is a more primal, raw form of magic based on names. It is a common theme in fantasy that by knowing a thing's "true name" one can control it. Names are powerful, which is why I obsess over them more than most people. In the world that Rothfuss creates, the pursuit of "Naming" is magic in its truest sense, but it is also the most dangerous. One of my favorite characters in his stories is Master Elodin, the Master Namer, who is quite bent.
In any case, Rothfuss is the rare author who inspires a certain type of rabid fandom. Anything he posts on his blog is almost always met by a chorus of fawning comments. It's not that he isn't talented, quite the contrary, but this type of fandom ends up rubber stamping everything he does as "great".
For example, the second book in the series, The Wise Man's Fear, did not resonate with me like the first. I came close to actually disliking it upon a first reading.
Now, granted, once I set it on the shelf for awhile and then took it down and re-read it, I liked it more, but still, it didn't affect me like the first book. I look on it like Tolkien's The Two Towers where "things happen that must happen" but it acts like a bridge between the first and last books of a trilogy. I eagerly await the third book, tentatively titled Doors of Stone to see if he can pull off the magic of TNotW.
And this is where the asshole part comes in. I have some friends who have met Rothfuss and spent some time with him and some of their comments tip the meter toward "asshole". Some of the stuff that he writes on his blog rub me the wrong way, thus re-enforcing the thought. But I guess I am mainly upset because I just want him to work on that third book instead of all the other stuff he does. This is very selfish of me, because some of the stuff he does is very worthwhile and makes the world a better place, but at this point I am emotionally invested in the story of Kvothe and I want to know how it ends.
Which brings me to a sobering point: I know almost nothing about Patrick Rothfuss. One of the fallacies of the Internet is this illusion of intimacy. The thought that I can read a blog or a twitter feed or an interview and think that really gives me insight into who the person is is ludicrous. To paraphrase Silent Bob, what I don't know about Patrick Rothfuss could just about squeeze into the Grand Canyon.
But I do know one thing without a doubt: he loves words.
I like words. I like my ten cent words and my five dollar words. But to me they are a means to an end. I like how a certain word can convey just the right feeling or evoke a particular response. But I don't love words.
Rothfuss loves words almost as much as his family (which, if you read his blog, he loves a lot). He dotes on them. He caresses them. And I'm almost certain that he stays up nights obsessing over finding the right word.
Which brings me to his latest book, The Slow Regard of Silent Things.
This is a tiny book, around 150 pages. It's even shorter than Gaiman's The Ocean at the End of the Lane. He warns on both his blog and in the forward that many people won't like this book. Heck, it only has one character in it, Auri, the mysterious girl befriended by Kvothe in TNotW.
I loved it.
This is a love song to words. He uses them to paint pictures and to compose symphonies. It is a three ringed circus of adjectives and adverbs, nouns and verbs all coalescing to create an experience if not exactly a narrative.
Auri is a woman of unknown age. She is very small, about the size of a child. She lives in a complex of tunnels and forgotten rooms called "The Underthing" that exists beneath the grounds of The University. While Rothfuss has never told us straight up her history, I've always imagined that she was a great student at The University who studied Naming and went crazy. She decided to "make herself small" and hid herself away. It is one of the characteristics of Kvothe that he was able to befriend her. He even gave her the name "Auri" which inspired Master Elodin to instruct Kvothe in Naming. But don't expect to see those characters in The Slow Regard of Silent Things. It is all about Auri and can stand alone from the rest of the series.
If you haven't read any of his books, then you won't know what I'm talking about. Heck, I'm not even sure I know what I'm talking about. All I know is that I feel like a better person from having read it.
It covers several days in the life of Auri. And that's about it. Pretty easy not to spoil. She has good days and bad days but to her they are just "days". The narrative focuses a lot on her drive to put things in their proper places and in some cases, give them names.
One of the world philosophies that I strongly identify with is Taoism. Now I'm certain that a true scholar of the Tao will be horrified, if that is possible, over how I'm about to describe it, so my apologies in advance.
The Tao is all things and how they are connected. There is no "good" or "evil", there is just the natural cycle of things. When one lives in tune with the Tao, this we call happiness. When one struggles against the Tao, sadness ensues. It stresses a very low impact existence and an acceptance of the way things are, but still manages to get a lot of stuff done, which sounds a little like an oxymoron.
One of the best books on the subject is The Tao of Pooh by Benjamin Hoff. In it he demonstrates the principals of Taoism through the stories about Winnie the Pooh. It works, and it is one of my favorite books. It sits next to me at my desk in case I'm having a rough day and I need a reminder.
As I was reading The Slow Regard of Silent Things I couldn't help but think that Auri was a Taoist master. Here is a quote from toward the end of the book:
That meant you could move smoothly through the world without upsetting every applecart you came across. And if you were careful, if you were the proper part of things, then you could help. You mended what was cracked. You tended to the things you found askew. And you trusted that the world in turn would brush you up against the chance to eat. It was the only graceful way to move. All else was vanity and pride.
Seems very Taoist to me.
I once saw Kurt Vonnegut give a lecture. He was talking about "the shape of stories" and the normal Western narrative and how it has these huge swings in mood. The example he used was Cinderella. It starts off pretty bad. Her parents have died and she's living with her evil stepmother. Then it gets really good. She gets to go to the ball and she meets the Prince. Then the clock hits midnight and things are bad again. Then the Prince finds her and all is well. He drew this on a white board in the form of a big sine wave that swung from bad to good.
He compared that to Native American stories. Usually the mood is very flat. We walked in the woods. We saw a deer. We caught some fish. We ate. We went to sleep. That sort of thing. There really isn't this whole process that we expect from our stories. On his white board he drew a straight line, pretty much neutral between good and bad.
Then he examined Hamlet. Hamlet is not a happy story. Things start of bad and remain that way. As Vonnegut talked through the plot he drew another straight line. Granted, this was firmly on the "bad" side of the chart but it had a lot more in common with a Native American narrative than a traditional one, and Hamlet is one of the greatest stories ever told.
Heh – I just decided to take a stab at the premise that "everything is on the Internet" and I found a page talking about this very thing.
I don't think that The Slow Regard of Silent Things is one of the greatest stories ever told, but it is a very good one. It, too, has a flat narrative arc. I will reread it a number of times. While I think a lot of his fans will be put off by it, and he knows this, but the fact that he created it and felt strong enough to see it through to publication moves the needle, at least for me, back firmly into the "not asshole" side of the meter.