The first day of sessions at Percona Live saw me recovered from the food poisoning I experienced on Monday. It was a miserable experience but I'm happy that it didn't last very long.
Whenever I go to a conference I always like the opening keynotes as they tend to set the tone for the rest of the event. The room in which the keynotes were held was dominated by a large screen featuring the new Percona logo.

The show was opened by Dave Stokes who, like me, is a technology evangelist.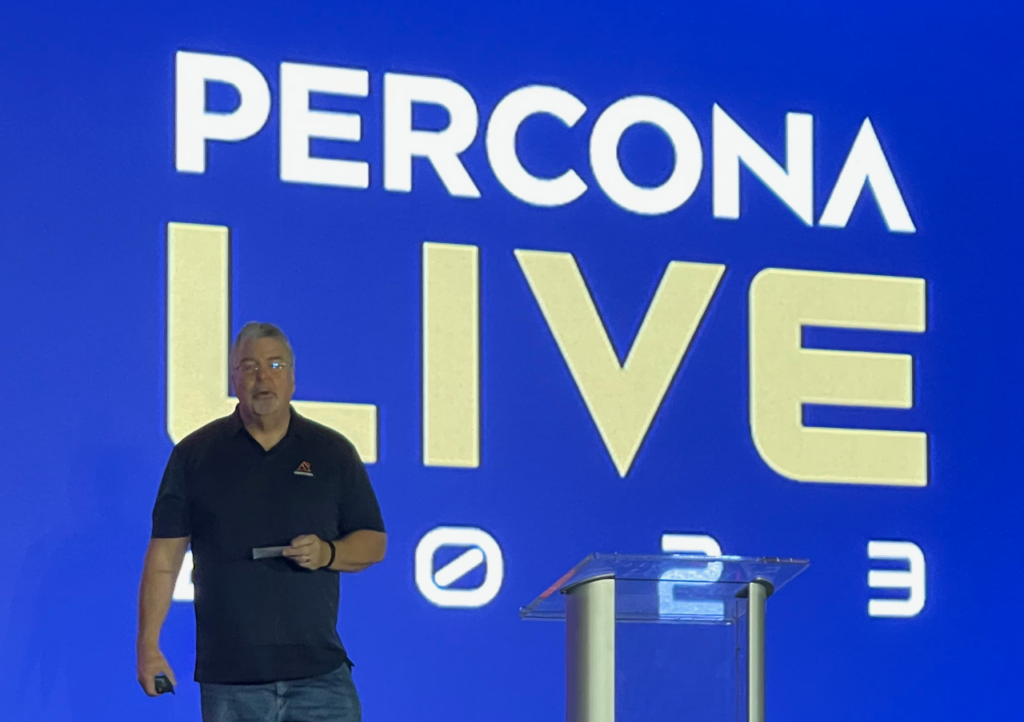 He welcomed us all to the conference and covered the usual housekeeping notes before turning the stage over to Ann Schlemmer, who is the new CEO of Percona.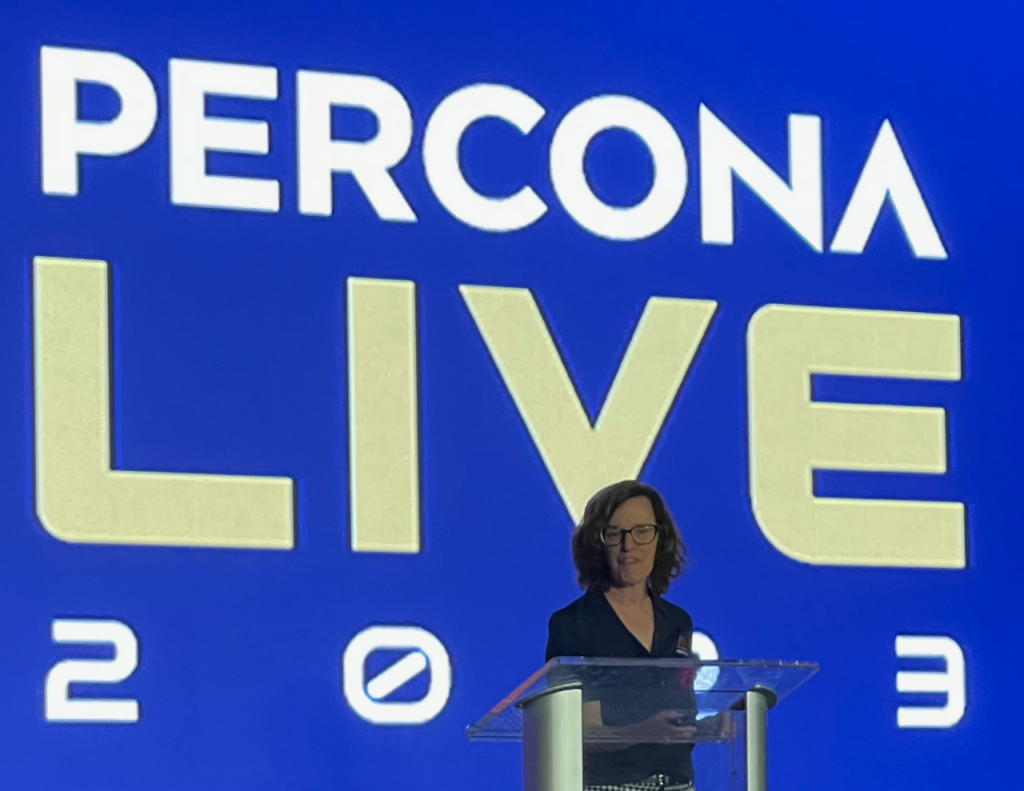 Schlemmer took over as CEO from founder Peter Zaitsev last autumn, and she seems to have settled into her new role pretty well.
One of the topics she covered was the new Percona Logo.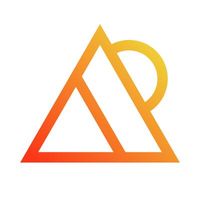 While I can't do the description justice, it represents mountains which refers to both the bedrock on which Percona solutions are built as well as the challenges people sometimes have to overcome when working in IT (think climbing the mountain). The sun represents the shining of light into dark places as well kind of looking like a "P" (while the mountains themselves look like the "A" in the name).
At least that is what I took away from it. (grin)
I asked her later if they designed it in-house or if they hired an outside firm and she told me they did it themselves. Either way I like it and think they did a good job.
She was followed by Peter Zaitsev, one of the two Founders of Percona.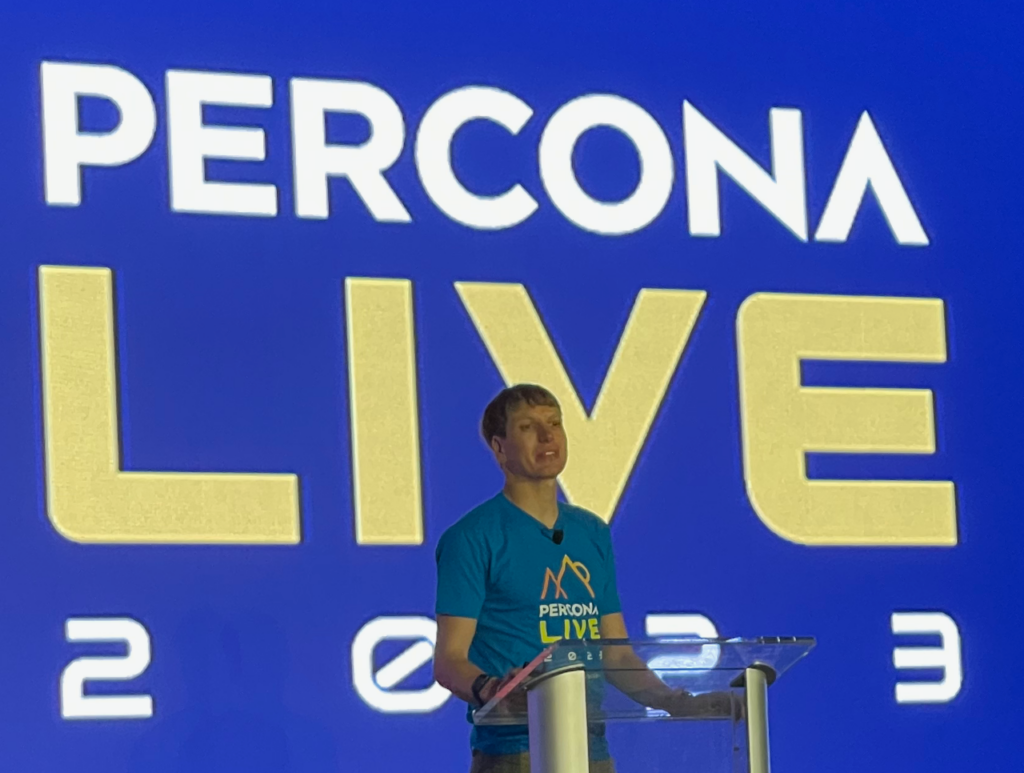 I first met Peter at this year's FOSDEM back in February. When I found out he lived near me I invited him to lunch and we had a great discussion of open source business models and open source in general. As someone who once ran an open source services company, I identify strongly with his business, although he has been more successful than I was.
He is also known for not holding back when he has a strong opinion, and as part of his talk on the state of open source relational databases he leveled some criticism on AWS, who is also my employer.
Note: These thoughts on my personal blog are mine and mine alone, and may or may not align with my employer, Amazon Web Services.
One of the reasons I joined AWS was to take on the challenge of changing both the perception and processes by which Amazon interacts with open source communities. I'm part of a wonderful team and I think we have made progress toward that goal, so while I won't either agree or disagree with Peter's statements, my hope is to earn enough trust that there will be no need to have this as a topic in future conversations.
Peter ended his presentation by bringing up Ann and officially passing the torch by gifting her with a dartboard with his face on it, to be used whenever she might feel the need.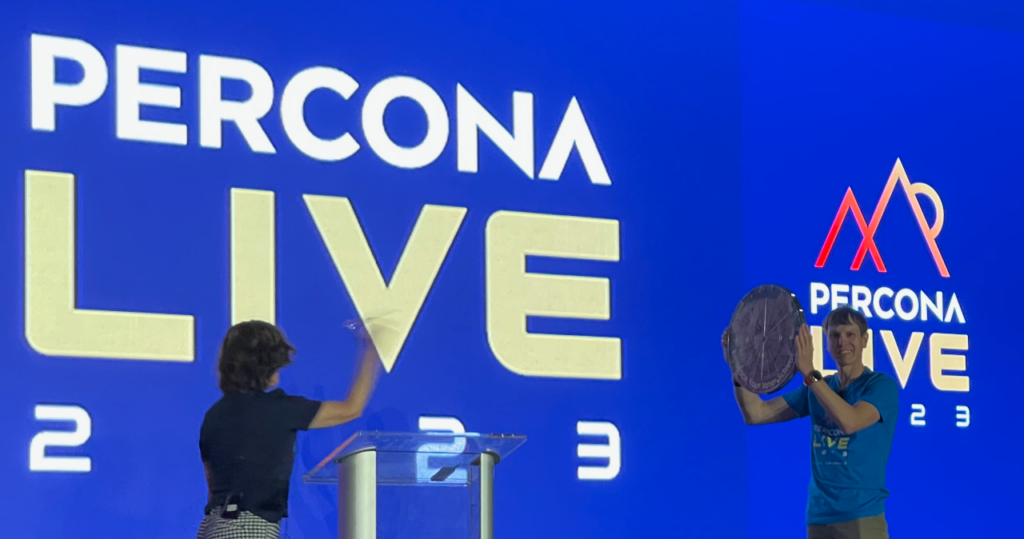 It took a couple of tries before the dart stuck, mainly because Peter had kept the dart in his back pocket and forgot to take off the safety cover on the sharp tip.
The next keynote speaker, Rachel Stephens, was new to me, although I've known about the company she works for, Redmonk, for a long time.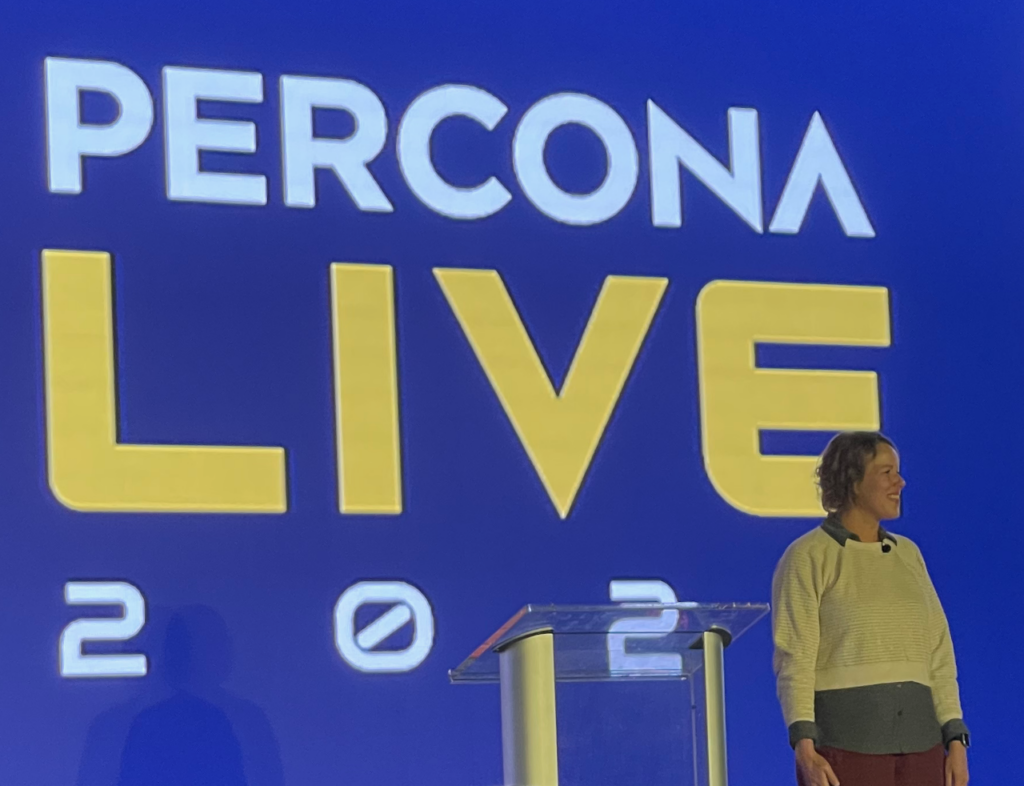 Redmonk is an analyst firm focused on software development, and she had my attention by basing her presentation on The Princess Bride, one of my favorite movies. It is very quotable, and she had slides like this one: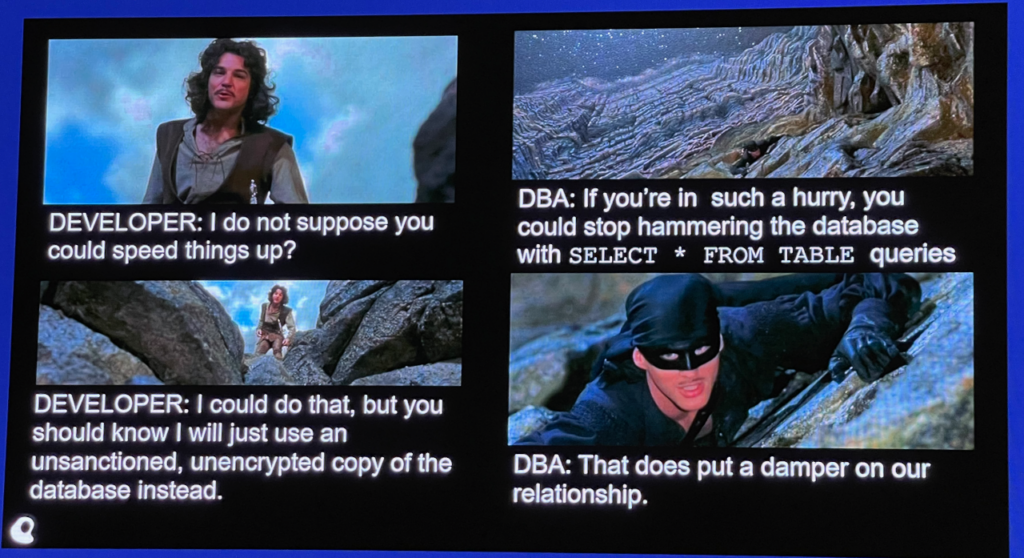 She also had a slide where she used the term "fauxpen" source: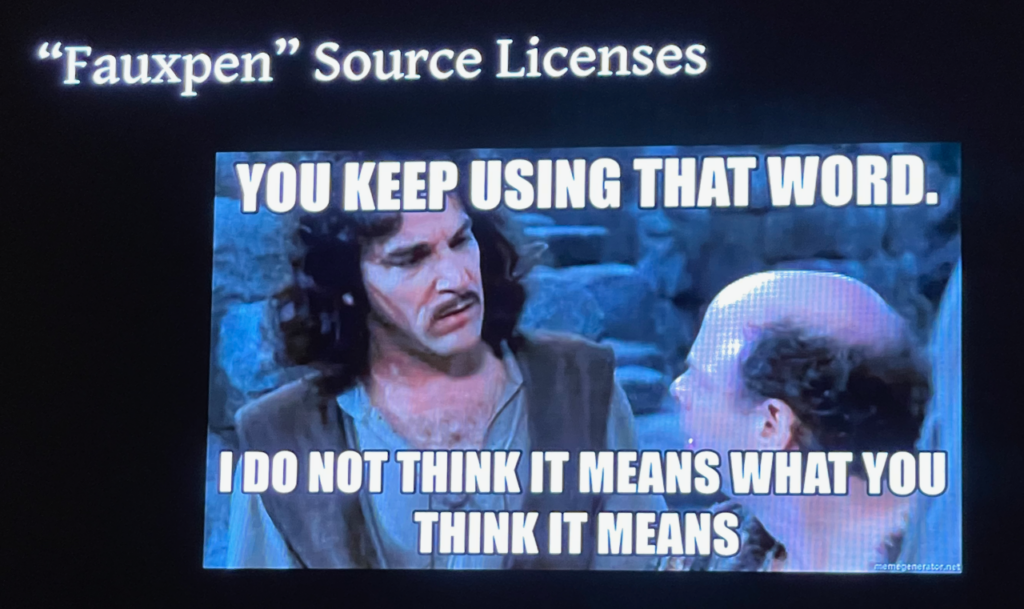 Back in 2009 I hosted a party in which I was trying to explain open source vs. open core to a non-technical friend of mine. He replied "oh, so it's fauxpen source". I immediately registered the domain name (although I no longer own it as it was sold when I sold my company). I did a search back then and I could find no other references to the term, but I've seen it a number of times since. I like to think I had some part in popularizing it but it is clever enough that I'm certain others came up with it, too.
After the keynotes the individual sessions began, and since I'm not a DBA a lot of them are over my head. I did go to the one by Jignesh Shah, who is the General Manager of open source databases for Amazon RDS.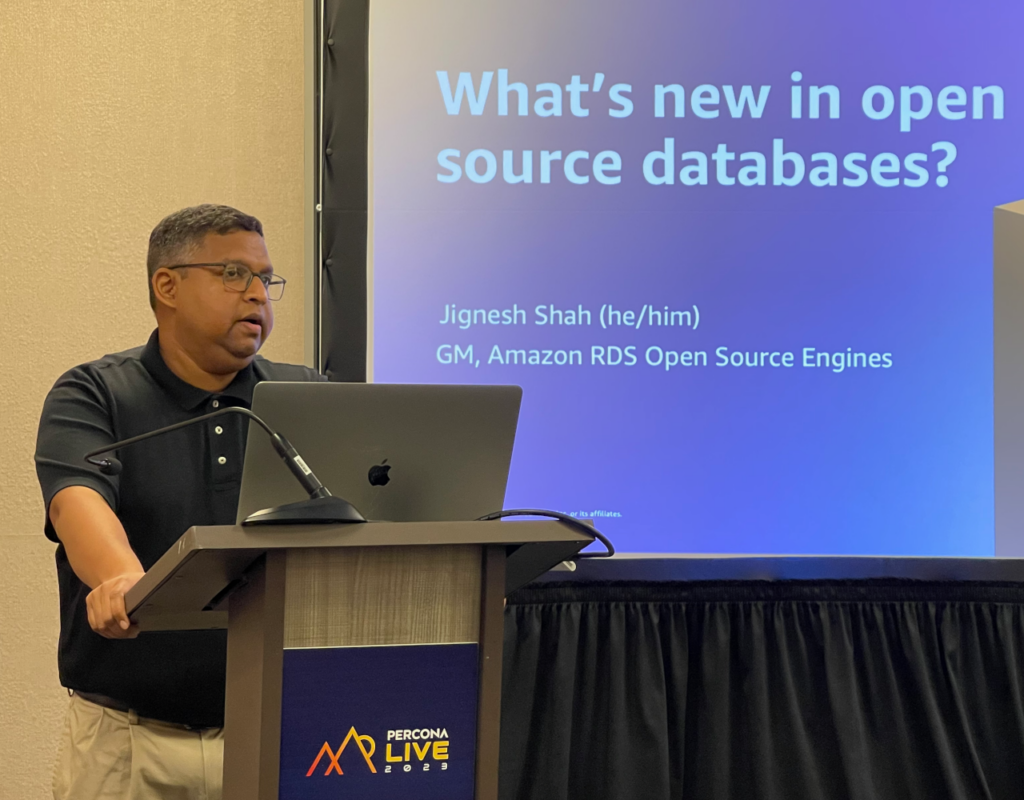 Jignesh gave a "state of" talk on the AWS offerings in this space, and also announced that the "trusted language extensions" feature for PostgreSQL that was introduced last autumn now supports Rust.
As I understand it, trusted language extensions give cloud providers a way to allow their users to extend the functionality of the database without introducing security concerns. There is a limit to what languages can be used, however, due to the fact that there may be no way to "sandbox" the extension from being able to access, say, the memory used by the database. The C language was not supported for that reason.
By supporting Rust, this allows end users to create powerful extensions in a language similar to C but with memory protections.
After his talk I spent some time wandering around the sponsor showcase. This is not a large conference, probably around 300 people, and so the "expo" is simply a hallway with booths along one wall. I actually like this because it facilitates easier interactions between attendees and sponsors.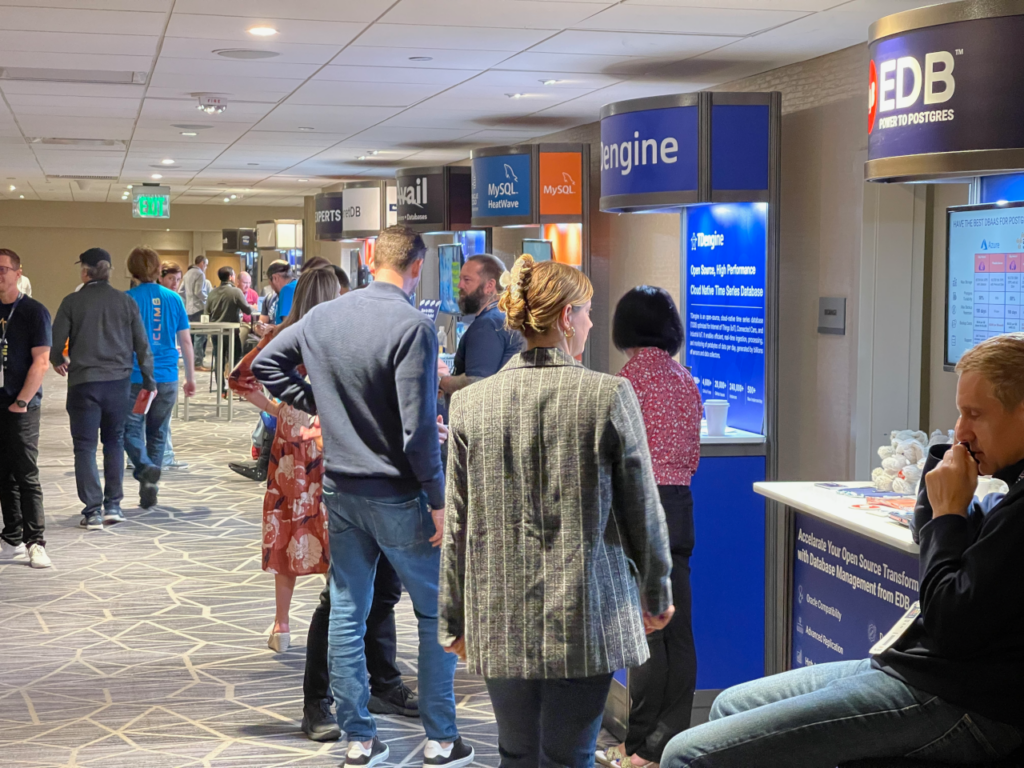 The "premium" sponsors (AWS, Microsoft and Percona) had slightly larger booths on one end of the hallway.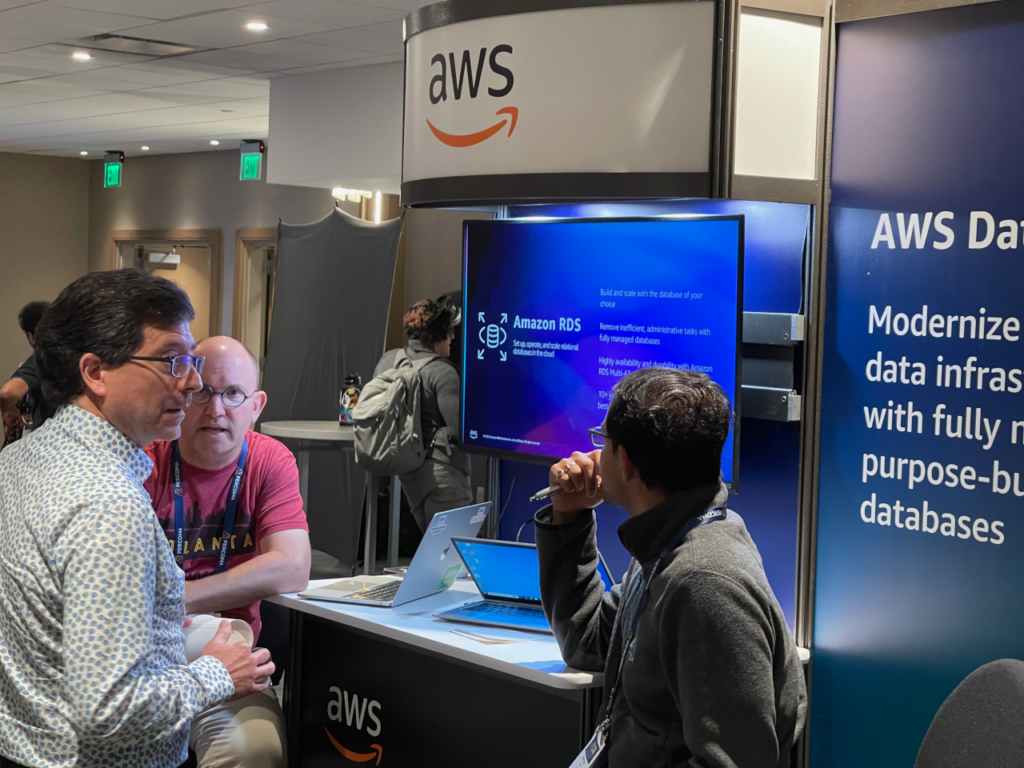 Jignesh has brought along a number of AWS subject matter experts and there was a lot of activity at the booth, as it provided a way for folks to ask and get answers from the people best able to provide them.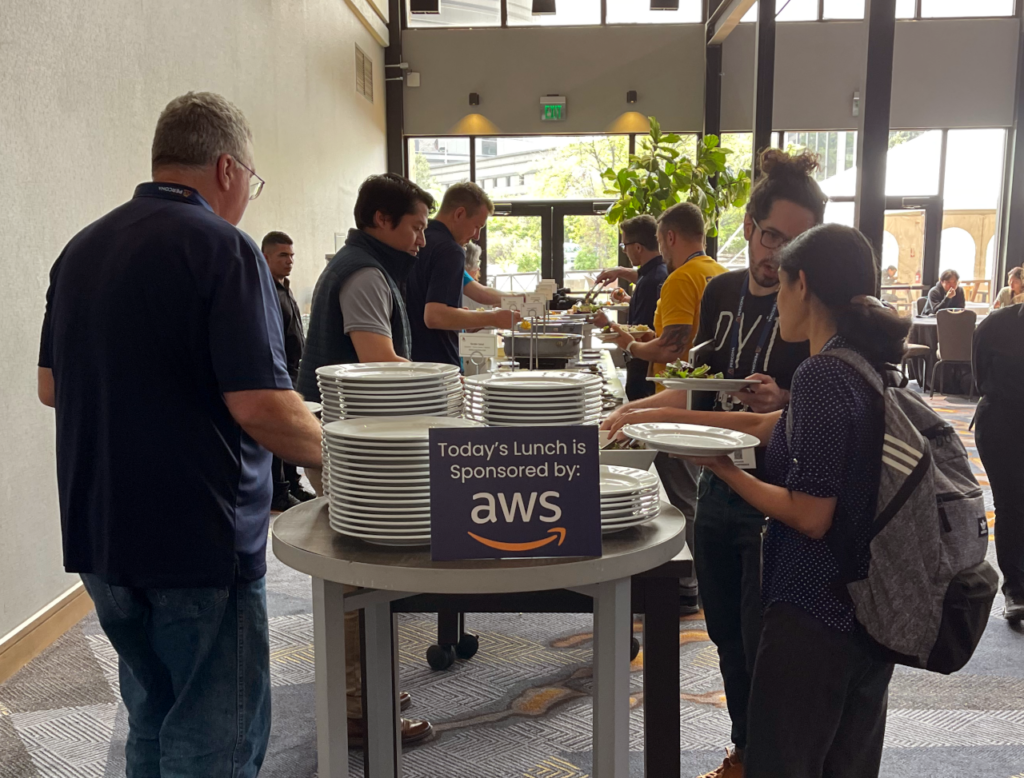 One last note on Day 1 is that lunch was an actual buffet and not a boxed lunch that you often get as such conferences.
While I live in North Carolina and have almost sacred opinions on pork barbecue and cornbread, it was pretty good. The only complaint I would make is that the baked beans were not labeled well since, like in the South, they appeared to include small pieces of pork. As many of the attendees are vegetarian it would have been nice to either offer it without meat or make it clear that meat was included.
I was just happy that it was nice and didn't result in the same issues I experienced after lunch on Monday (grin)