So far the OSMC has been very enjoyable. The talks have been good and the networking outside the talks has been even better.
Dr. Michael Schwartzkopff did a presentation on SNMP, and his slides could have been lifted from some of my own. He, like me, is a fan of Net-SNMP, and I learned about a log monitoring feature that is pretty cool. He also took time to help me figure out how to get Net-SNMP to properly generate traps based on values that Net-SNMP can monitor natively (blog post coming soon). His company has a three digit Private Enterprise ID (813) whereas mine is in the low four digits (2432).
I also got to meet Kristian Köhntopp, who is anything but a fan of SNMP. He gave an interesting talk on monitoring MySQL, but he has also known our own Alexander Finger for many years. It was fun to watch a debate between Michael and Kristian on the merits of SNMP, although there was no clear winner (I had my favorite, however).
My own talk went okay. I got laughs where I wanted to get laughs, and I didn't see anyone sleeping. Also, no one left the room, which I think is a first (grin). The only problem I had (outside of speaking at a Nagios conference) was with the funky headset they asked me to wear (it kept slipping off my big head).
After the talk I got to meet Jens Bothe from OTRS. Especially in Europe, OTRS is a very popular ticketing system. Jonathan Sartin has created a bi-directional interface between OpenNMS and OTRS that was committed back to the OTRS project. It is available as a package so it is easy to install.
The biggest surprise was meeting Rihards Olups. He is part of the Zabbix project, and over the last year or so I've been hearing more and more about Zabbix so I'm very interested in hearing his talk. One thing I like about them is that they seem very similar to us: a small group of dedicated people working to create both open source software and an open source business.
Unfortunately, also like us, they seem to be the victim of code theft, or at least some very questionable licensing practices. A company called Firescope appears to have appropriated some of the Zabbix code. They have raised several million dollars in VC funding, lead by a company called Technology Advisors, and it seems they have used this money to put a prettier front end to the Zabbix code (sound familiar?). Apparently efforts by Zabbix to get this issue resolved have been a failure.
Note: Please read the comments below. The CEO of Firescope has responded to these claims with more information. I am hoping that Alexei will respond when he can. When I get some time I plan to download the trial version of Firescope as well as Zabbix and see for myself if the similarities still exist, but until then I will withhold judgement and I ask that you do as well.
This really pisses me off, of course. I think part of the issue is that Zabbix is headquartered in Latvia, and my guess is those people at Firescope felt that they would not be in a position to challenge or question the Firescope use of their code. And the unfortunate part is that they are right. It's a sad fact that very few people outside of a small open source community cares. We found out with our own copyright issues that there is little recourse when someone appropriates your code that doesn't involved spending a lot of money with lawyers. Some people will point you to the Software Freedom Law Center (an organization I support with an annual donation, by the way) but the charter of the SFLC prevents them from helping projects with a commercial interest, even, as is the case with Zabbix and OpenNMS, if that interest is not a large, well-funded corporation.
We were lucky in that we have become profitable enough to afford proper legal council, and so we could hire Eben Moglen and his team at Moglen Ravischer. When I heard about the issues Zabbix are having with Firescope, I made an introduction between Alexei Vladishev and Eben's team in the hope that they could work out an arrangement like we were able to do.
Some might find this unusual, since on the surface it might seem that OpenNMS and Zabbix are competitors. In fact, we have run into them at one or two accounts, so the smart thing to do would be to ignore their problems. It may be the smart thing, but it wouldn't be the right thing. We learned a lot going through this process ourselves so it would be wrong not to help another company, especially one so similar to our own.
Anyway, I hadn't really thought about this again until I met Rihards. He introduced himself and apologized that Alexei could not have come in person (apparently he is off doing great things with clients in Japan). And in a very surprise move he presented me with a ceramic magnet from Riga and a loaf of amazingly dense and sweet smelling rye bread.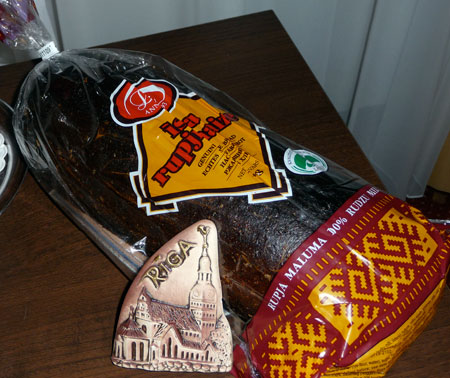 I was touched, and we struck up a friendship. I've been told the best way to eat the bread is with cured meats (and me having just left Italy [sigh]) and good butter. I also have a standing invitation to visit and eat wild mushrooms (not the "magic" kind, however).
Rihards joined Ronny Trommer and myself at an event last night that involved a lot of beer, good food, and a surprising amount of American pop music from the 1990s. It was a fun night, and I look forward to the resolution of the issues between Zabbix and Firescope, as well as eating those mushrooms.
Tonight Ronny and I head off to meet Klaus Thielking-Riechert. He is putting us up for the night. Klaus, along with Ronny and Alex, are writing an OpenNMS book. And unlike the book I am writing, this one actually exists and I look forward to seeing it in print.
When you think about it, all great friendships start with a meeting of strangers.