Back in the mid-2000s I was a huge Apple fanboy, and I really, really, really wanted an iPhone. At that time it was only available from AT&T, and unfortunately the wireless coverage on that network is not very good where I live.
In 2008 a couple of things happened. Apple introduced the iPhone 3G, and AT&T introduced the 3G Microcell.
The 3G Microcell, technically a "femtocell", is a small device that you can plug into your home network and it will leverage your Internet connection to augment wireless coverage in a small area (i.e. your house). With that I could get an iPhone and it would work at my house.
In February 3G service in the US will cease, and I thought I was going to have to do without a femtocell. Most modern phones support calling over WiFi now, but it just isn't the same. For example, if I am trying to send an SMS and there is any signal at all from AT&T, my phone will try to use that network instead of the much stronger wireless network in my house. If I disable mobile access altogether, the SMS will send fine but then I can't get phone calls reliably. (sigh)
I thought I was going to have to just deal with it when AT&T sent me a notice that they were going to replace my 3G Microcell with a new product called a Cell Booster.
Now a lot of people criticize AT&T for a number of good reasons, but lately they've really been hitting the whole "customer service" thing out of the park. The Cell Booster currently shows out of stock on their website with a cost of $229, but they sent me one for free.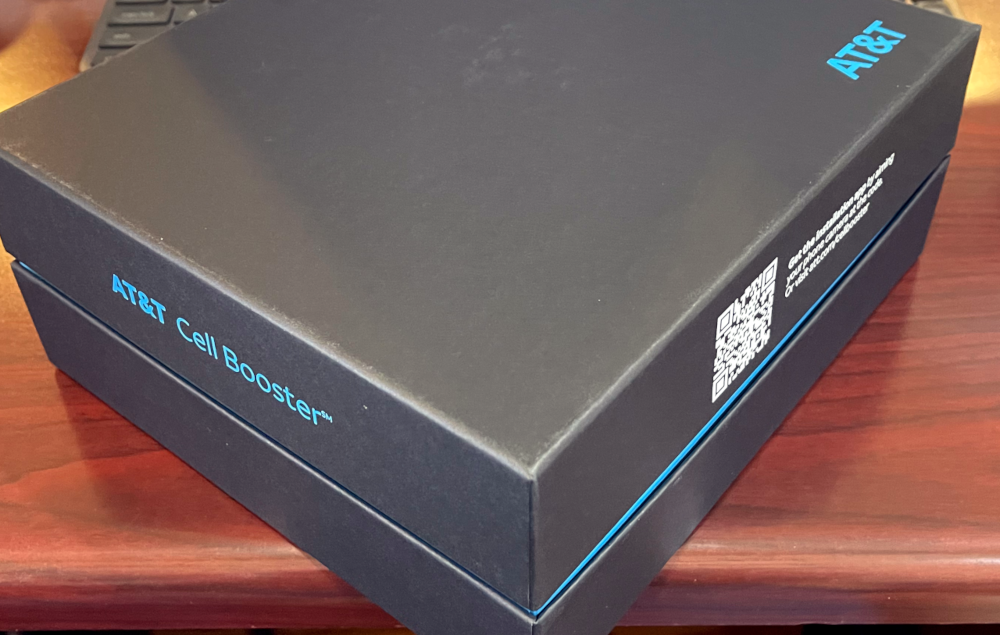 In a related story my mother-in-law, who is on our family plan, was using an older Pixel that was going to stop working with the end of 3G service (it was an LTE phone but doesn't support "HD Voice" which is required to make calls). So AT&T send us a replacement Samsung S9. Pretty cool.
In any case the Cell Booster installation went pretty smoothly. I simply unplugged the existing 3G Microcell and plugged in the new device. The box included the Cell Booster, a GPS sensor, a power supply and an Ethernet cable. No other instructions outside of a QR code which will take you to the appropriate app store to download the necessary application to set it up.
The Booster requires a GPS lock, and they include a little "puck" connected to a fairly long wire that is supposed to allow one to get a signal even when the device is some distance away from a clear line of sight, such as away from windows. I just plugged it in to the back and left it next to the unit and it eventually got a signal, but it is also pretty much beneath a skylight.
In order to provision the Cell Booster you have to launch the mobile app and fill out a few pages of forms, which includes the serial number of the device. It has five lights on the front and while the power light came on immediately, it did take some time for the other lights, including "Internet" to come up. I assumed the Internet light would have turned on as soon as an IP address was assigned, but that wasn't the case. It took nearly a half and hour for the first four lights to come on, and then another 15 minutes or so for the final "4G LTE" light to illuminate and the unit to start working. Almost immediately I got an SMS from AT&T saying the unit was active.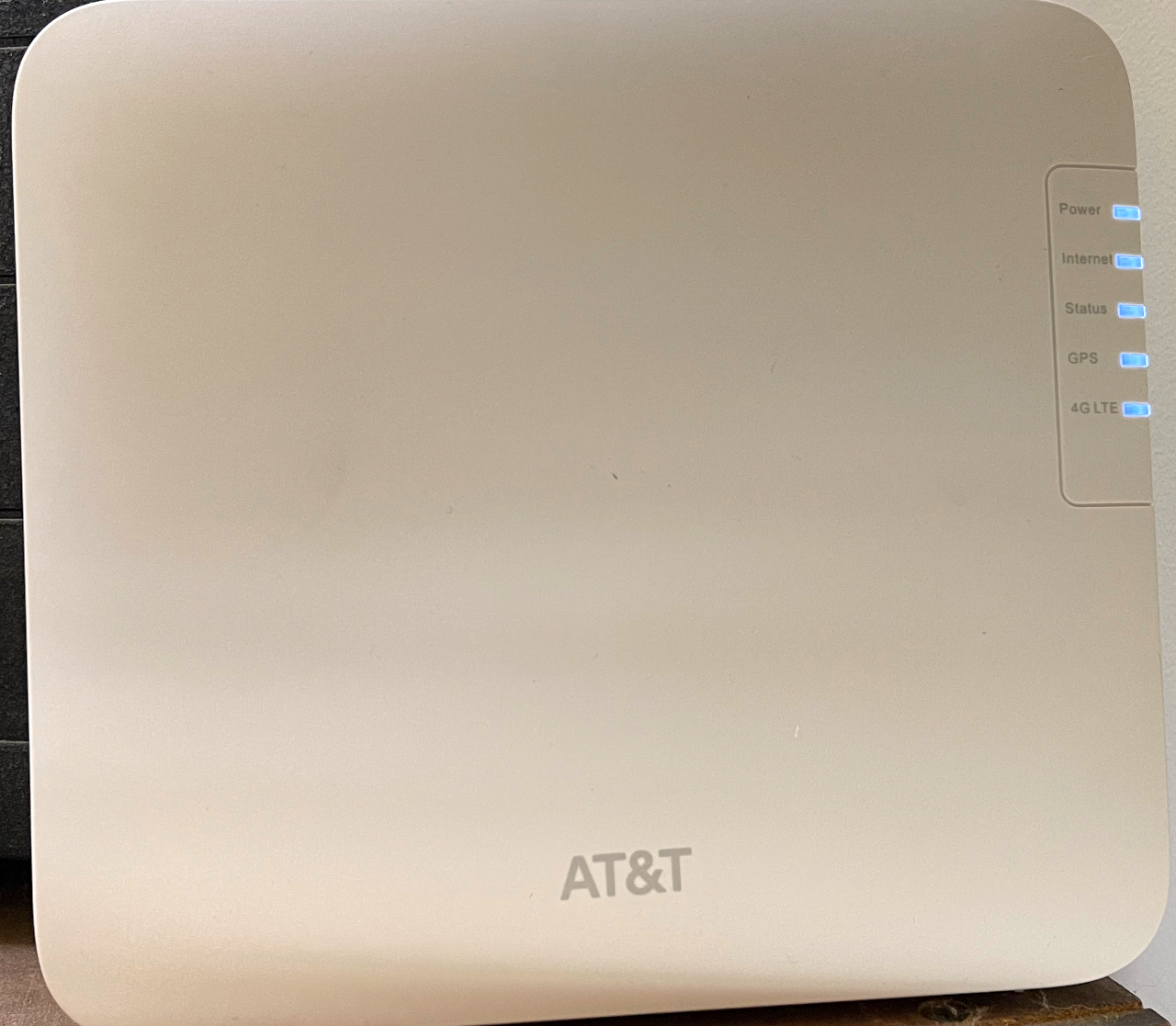 Speaking of IP addresses, I don't like putting random devices on my LAN so I stuck this on my public network which only has Internet access (no LAN access). I ran nmap against it and there don't appear to be any ports open. A traffic capture shows traffic between the Cell Booster and a 12.0.0.0 network address owned by AT&T.
I do like the fact that, unlike the 3G Microcell, you do not need to specify the phone number of the handsets that can use the Cell Booster. It claims to support up to 8 at a time, and while I haven't had anyone over who is both on the AT&T network and also not on my plan, I'm assuming it will work for them as well (I used to have to manually add phone numbers of my guests to allow them to use the 3G device).
The Cell Booster is a rebranded Nokia SS2FII. One could probably buy one outside of AT&T but without being able to provision it I doubt it would work.
So far we've been real happy with the Cell Booster. Calls and SMS messages work just fine, if not better than before (I have no objective way to measure it, though, so it might just be bias). If you get one, just remember that it takes a really long time to start up that first time, but after you have all five lights you should be able to forget it's there.