A few weeks ago I commented on a Paul Graham post about being "Ramen Profitable" with a reply that at OpenNMS we were "Sushi Profitable". I also speculated that one day we would be "Mercedes Profitable".
Well, I wouldn't say we were there yet, but I did buy a Mercedes.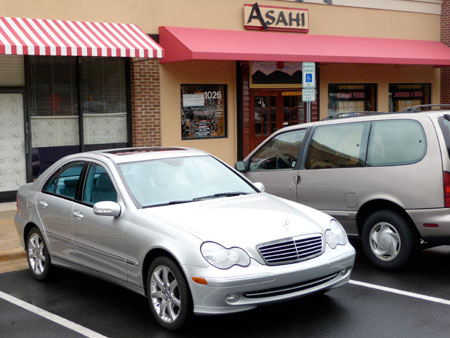 To be honest, I didn't pay all that much for it (I bought it from friends) and a C230 isn't exactly the best example of the marque (as this "Overhead in New York" points out) but I like it.
I can't see spending a lot of money on a car. I mean, I could pay myself a bonus or get a company car, but we try to plow all of our profits into making the company stronger. One way to do this is to hire more people and, as we are having a good year, I am happy to announce that Jason Aras has decided to join our team.
Jason has been involved with OpenNMS for years now. He is a member of the Order of the Green Polo and can often be found on the IRC channel as "fastjay". He even came out to Germany, on his own nickel, to present at our first OpenNMS Users Conference. We are very excited to have him on board.
I am often asked how one gets a job working on OpenNMS, and the best way is simply to show us what you can do by getting involved. It may sound a little self-serving, but we've been successful by attracting people who really enjoy what they do. It is the second part of our mission statement: Have Fun. If you wouldn't spend some of your time on the project "for fun" you probably wouldn't enjoy it as a job, either.
When I was in college the big thing was to co-op. The co-op program let you take time off from school to work, preferably in a field you were hoping to enter, both to earn some money and to see if you liked it. I think open source provides an even better opportunity, as it allows people to really hone their skills, both in things like programming as well as working in a team, through the simple act of showing up. It can provide experience that one can put on a resumé which shows initiative, talent and the ability to work remotely and with others.
And who knows, there might even be a paying job in it.