Although it is cold and raining in Frankfurt, the atmosphere at the second annual OpenNMS Users Conference – Europe is pretty sunny. While there are less people than we had last year, the attendees are stellar and I believe everyone is having a good time.
Once again Nethinks has done a great job with the conference. We have two rooms, each with a projector, flip chart and drink cabinet, with one room in between for breaks, coffee and snacks.
Uwe started things off with a short introduction, then I did about 90 minutes discussing the current state of the OpenNMS project. I focused on two themes: OpenNMS as an application platform and the OpenNMS community. At the end I was able to present both Ronny Trommer and Jay Aras with their green polo shirts, which was the highlight of the talk for me.
We then took a break for lunch (the hotel has a wonderful buffet) and the afternoon started with technical discussions on how users were working with OpenNMS.
Since a number of people from The OpenNMS Group are here, I wanted to make sure that at least one of us was in every session, so while I wish I could have seen both tracks, I only got to see half of them. They were all recorded, so I plan to watch them once the videos are posted.
I started with Christoph Lagemann's presentation on how his company uses OpenNMS. They started with OpenNMS 1.2 many years ago, so it was nice to hear what they thought of its progression over time, as well as areas for improvement.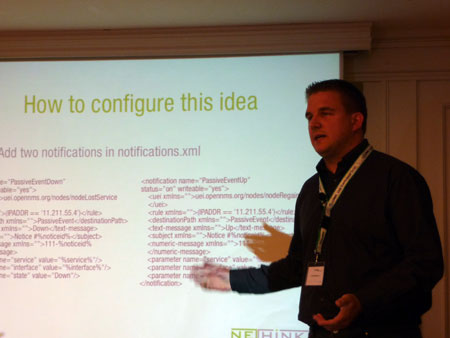 This was followed by a discussion from Jens Michelsons on the OpenNMS notification system. He covered the basics but ended the talk with several examples of unique ways to use OpenNMS in order to send alerts. This is the thing I love the most about our project – by focusing on building a platform versus an application people are free to come up with new ways of using it that the designers never conceived.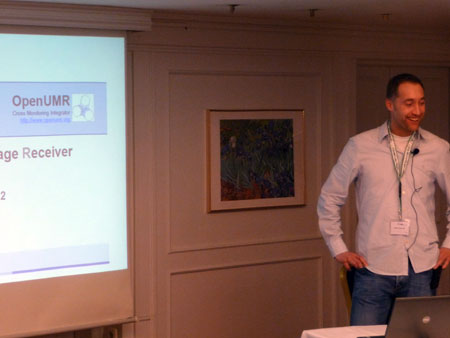 The final talk was by Markus Schneider on his OpenUMR project. He has integrated OpenNMS with Microsoft's OpsManager. I thoroughly enjoyed it, although being Windows focused it wasn't a fan favorite for this conference crowd. (grin)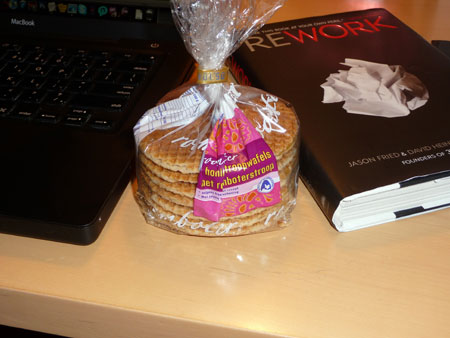 At some point, my friend Neils brought me stroopwafles. He knows my weakness for them.
Then it was time for beer and socializing. This was followed by an evening event at a local African restaurant. It was delicious food (you eat from shared plates using your hands and a type of bread) and since we basically took over the restaurant it was a great way to end the evening.
As I watched everyone interacting and having a good time, I couldn't help but wonder at the power of free and open source software to bring people together. Here we had people from 10 countries laughing, talking and breaking bread together, and it was as if there were no national boundaries. We talked about technology, politics, art, music and everyone had something to learn and something to share.
If you haven't experienced it, it is hard to describe, but for me it removes any doubt that my dedication to OpenNMS has been the right decision.