Monday was a travel day, but it was notable as it was the first time I have been in an airport since August. I fly out of RDU, and the biggest change was that they now have the "Star Trek" x-ray machines to scan carry-on luggage. While I was panicked for a second when I downloaded my boarding pass and didn't see the TSA Precheck logo, I was able to get that sorted out so going through security was pretty easy.
The restrictions on masks for air travel have been lifted, but I wore mine along with about 10% of the other travelers. Even though I've had four shots and a breakthrough case of COVID I do interact with a lot of older people and since I'll be around the most people in years at the Open Source Summit I figured I'd wear mine throughout the trip.
And while it isn't N95, being a car nut I tried out these masks from K&N Engineering, who are known for high end air filtration for performance vehicles, and you almost don't realize you are wearing a mask.
Anyway, I made my way to the Admiral's Club and was pleasantly surprised to see it wasn't very crowded. It was nice to have the membership (it comes with my credit card) as my flight to Charlotte was delayed over 90 minutes. I wasn't too worried since I had a long layover before heading to Austin, so I was a lot less stressed than many of my fellow travelers.
The flight to Austin left on time and landed early, but we got hit with the curse in that our gate wasn't available, so we ended up on the tarmac for 45 minutes, getting in 30 minutes late.
Not that I'm complaining. Seriously, according to my handy the trip from my home to Austin by car is 19 hours. From the moment I left my home until we landed was more like 8 hours, and most of that was enjoyable. I always have to remind myself of this wonderful clip by Louis CK which kind of sums up the amazing world in which we live where every time we fly we should be saying to ourselves "I'm in a chair in the sky!"
I checked in at the hotel and then we headed back out in our rented minivan to get the last member of our team, and then we drove about 45 minutes outside of Austin to this barbecue joint called Salt Lick in Driftwood Texas. It was wonderful and I was told we owed this experience to a recommendation years ago from Mark Hinkle, so thanks Mark!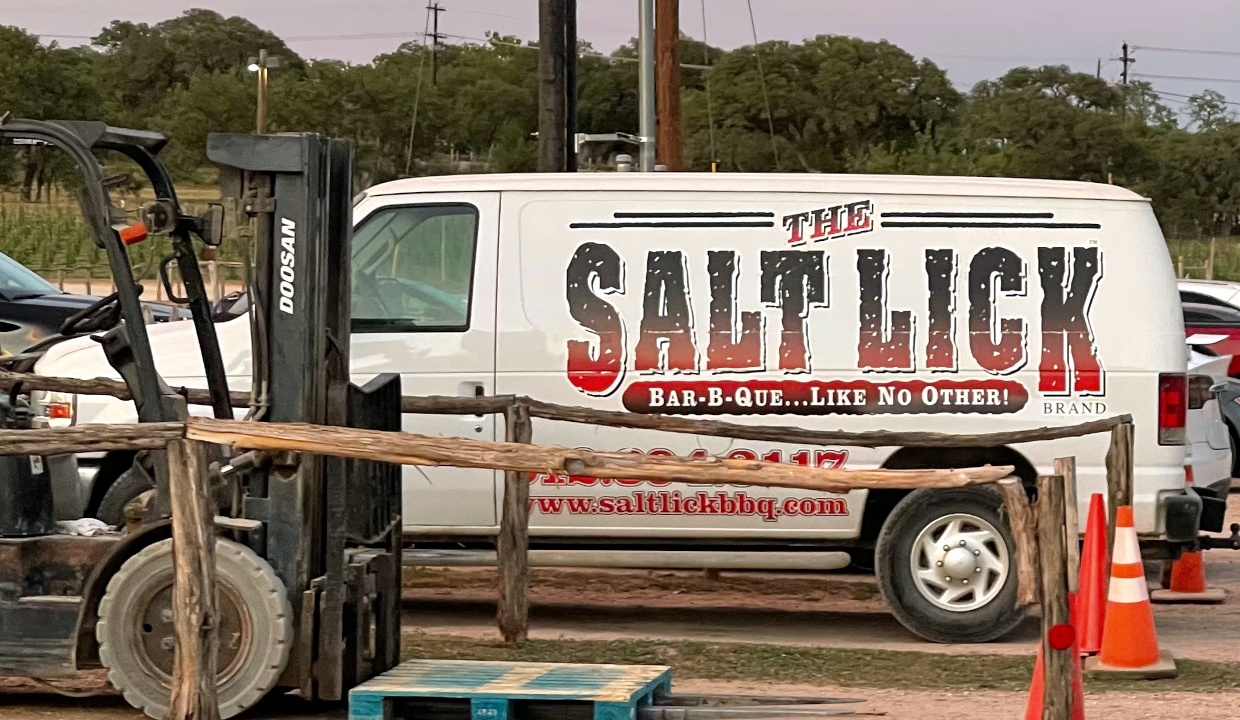 You can't really tell a good barbecue restaurant by its looks, although shabbier tends to be better, but more by the smell. When you get out of your vehicle your nose is so assaulted with the most wonderful smell you might be drawn to the entrance so quickly that you miss the TARDIS.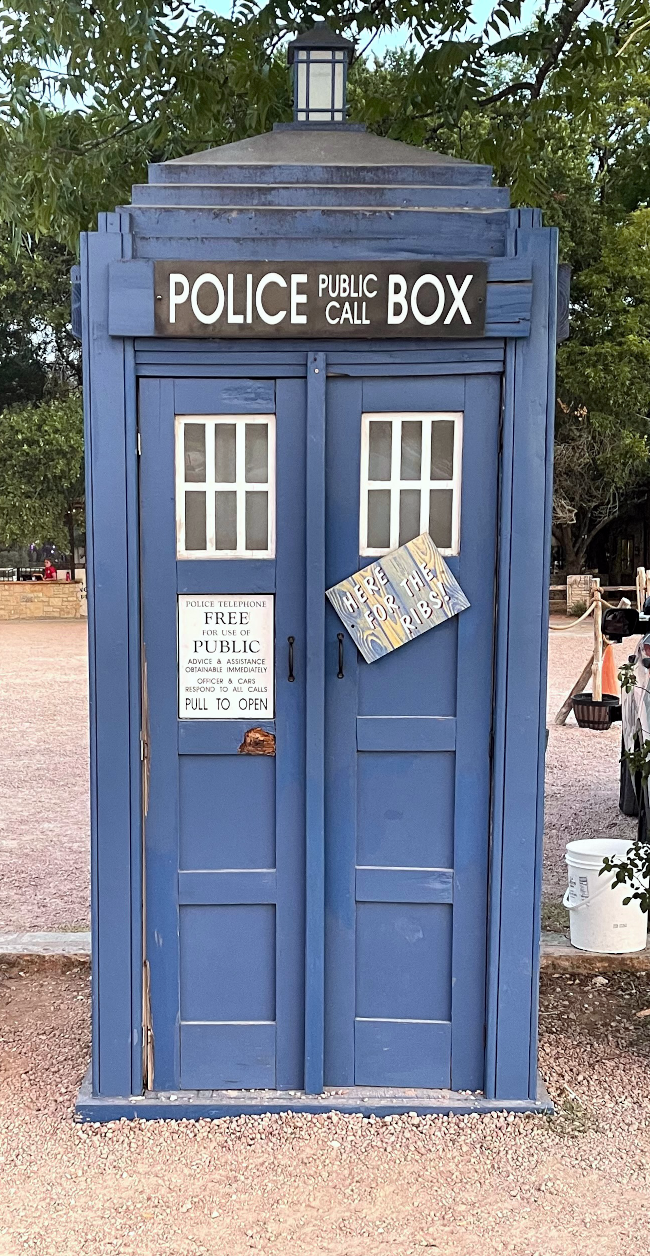 We sat at a big picnic table and ordered family style, which was all you could eat meat, slaw, baked beans, bread, pickles and potato salad. I was in such a food coma by the end that I forgot to take a picture of the cobbler.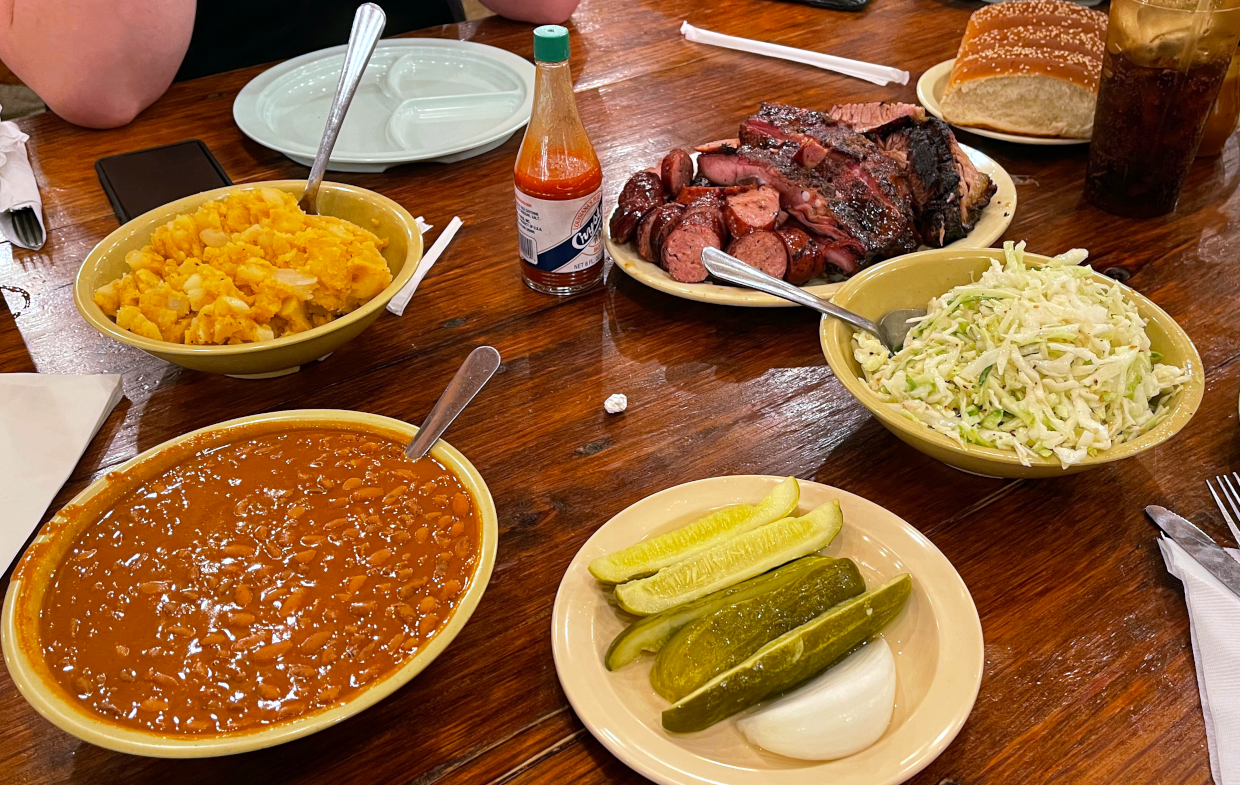 I tried not to fall asleep on the ride back to Austin (I wasn't driving) but it was a great start to what I hope is a wonderful week.