Next week I'll be attending my first conference in nearly three years. My last one turned out to be the very last OSCON back in 2019. Soon after that I was in a bad car accident that laid me up for many months and then COVID happened.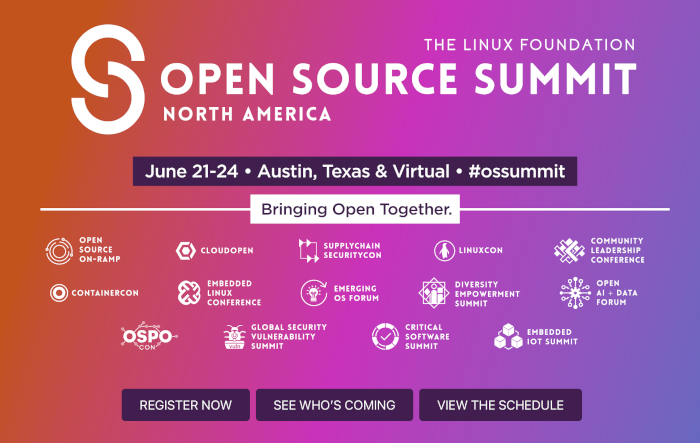 I am both eager and anxious. Even having four vaccine shots and one breakthrough case I still feel a little exposed around large groups of people, but the precautions outlined in the "Health and Safety" section of the conference website are pretty robust and I am eager to see folks face-to-face (or mask-to-mask) once again.
The Linux Foundation's Open Source Summit used to be known as Linuxcon and now it is an umbrella title for a number of conferences around open source, all of which look cool. My new employer, AWS, is a platinum sponsor and will also have a booth (I am not on booth duty this trip but I'll be around). I am looking forward to getting to meet in person many of my teammates who I've only seen via video, old friends I haven't seen in years, and to making a bunch of new ones.
Of course, we would have to have a conference in Austin during a heat wave. I was thinking about never leaving the conference venue but then I remembered … barbecue.
If you are going and would like to say "hi" drop me a note on Twitter or LinkedIn or send an e-mail to tarus at tarus dot io.