Last year I wanted to do something special for the team to commemorate the release of OpenNMS Meridian.
Since all the cool kids in Silicon Valley have access to a classic arcade machine, I decided to buy one for the office. I did a lot of research and I settled on one from X-Arcade.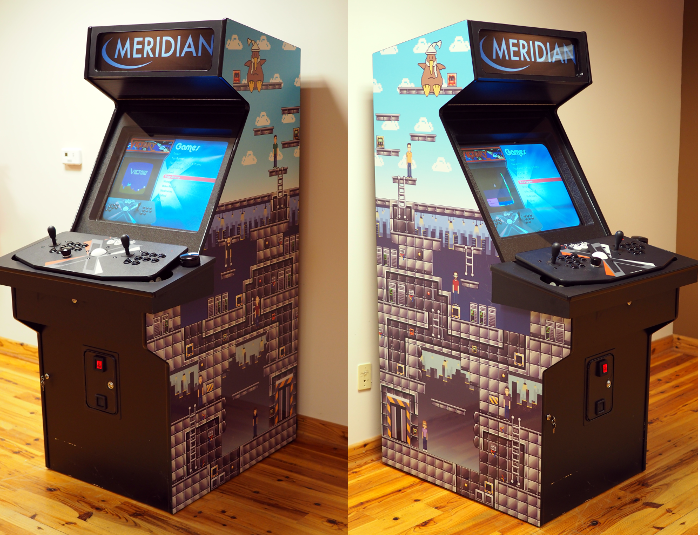 The main reasons were that it looked well-made but it also included all of my favorites, including Pac-Man, Galaga and Tempest.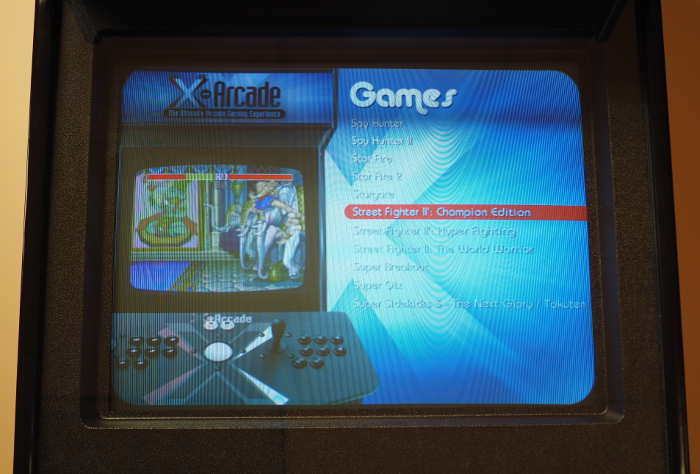 The final piece that sold me on it was the ability to add your own graphics. I went to Jessica, our Graphic Designer, and she put together this wonderful graphic done in the classic eight-bit "platformer" style and featuring all the employees.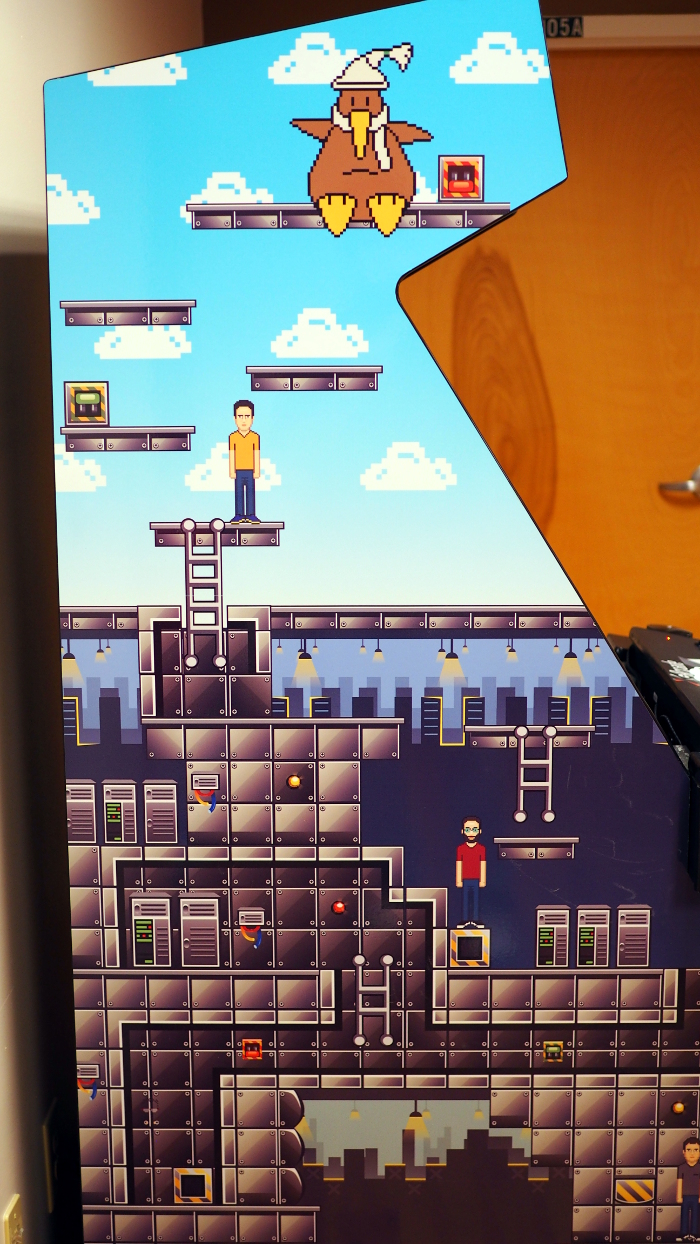 Ulf took the role of Donkey Kong, and here is the picture meant to represent me: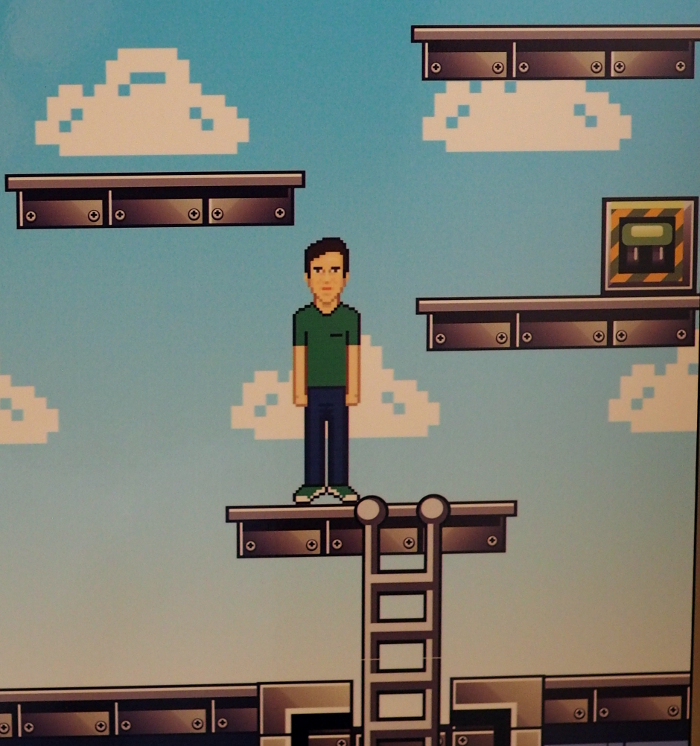 The "Tank Stick" controls are solid and responsive, although I did end up adding a spinner since none of the controls really worked for Tempest.
When you order one of these things, they stress that you need to make sure it arrives safely. Seriously, like four times, in big bold letters, they state you should check the machine on delivery.
I was going to be out of town when it arrived, so I made sure to tell the person checking in the delivery to make sure it was okay (i.e. take it out of the box).
They didn't (the box looked "fine") and so we ended up with this: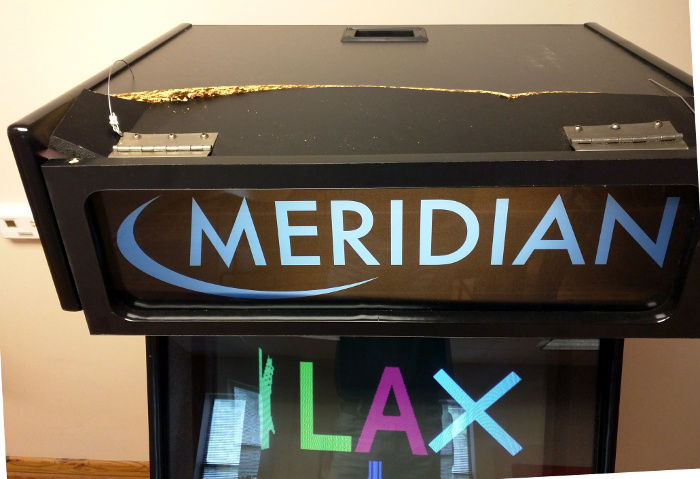 (sigh)
Outside of that, everything arrived in working order. You get a small Dell desktop running Windows with the software pre-installed, but you also get CDs with all the games that are included with the system. It's a little bit of a pain to set up since the instructions are a little vague, but after about an hour or so I had it up and running.
Anyway, it is real fun to play. It supports MAME games, Sega games, Atari 2600 games and even that short lived laserdisc franchise "Dragon's Lair". You can copy other games to the system if you have them, although scrolling through the menu can get a bit tiring if you have a long list of titles.
We had an issue with the CRT about 11 months after buying the system. I came back from a business trip to find the thing dark (it never goes dark, if the computer is hung for some reason you'll still see a "no signal" graphic on the monitor"). Turns out the CRT had died, but they sent us a replacement under warranty and hassle free. It took about an hour to replace (those instructions were pretty detailed) and it worked better than ever afterward.
This motivated me to consider fixing the top. When we had the system apart to replace the monitor, I noticed that the top was a) the only thing broken and b) held on with eight screws. I contacted them about a replacement piece and to my surprise it arrived two days later – no charge.
The only issue I have remaining with the system is the fact that it is Windows-based. This seems to be the perfect application for a small solid-state Linux box, but I haven't had the time to investigate a migration. Instead I just turned off or removed as much software as I could (all the Dell Update stuff kept popping up in the middle of playing a game) and so far so good.
I am very happy with the product and extremely happy with the company behind it. If you are in the market for such a cabinet, please check them out.