It was sixteen years ago today that the first code for OpenNMS was published on Sourceforge. While the project was started in the summer of 1999, no one seems to remember the exact date, so we use March 30th to mark the birthday of the OpenNMS project.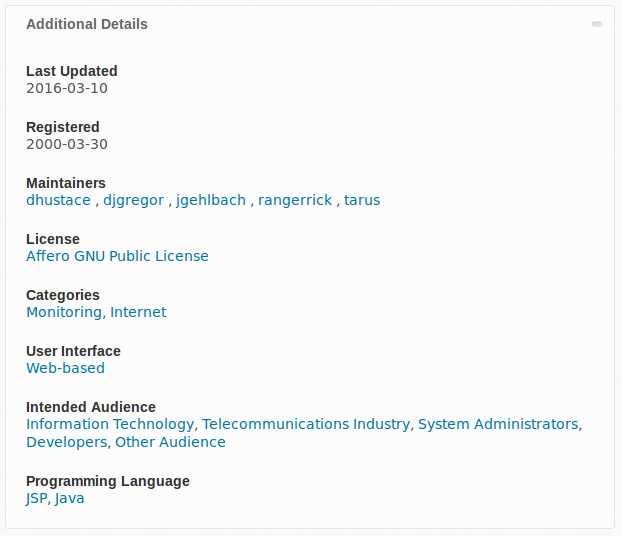 While I've been closely associated with OpenNMS for a very long time, I didn't start it. It was started by Steve Giles, Luke Rindfuss and Brian Weaver. They were soon joined by Shane O'Donnell, and while none of them are associated with the project today, they are the reason it exists.
Their company was called Oculan, and I joined them in 2001. They built management appliances marketed as "purple boxes" based on OpenNMS and I was brought on to build a business around just the OpenNMS piece of the solution.
As far as I know, this is the only surviving picture of most of the original team, taken at the OpenNMS 1.0 Release party: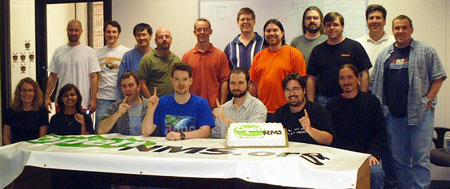 In 2002 Oculan decided to close source all future work on their product, thus ending their involvement with OpenNMS. I saw the potential, so I talked with Steve Giles and soon left the company to become the OpenNMS project maintainer. When it comes to writing code I am very poorly suited to the job, but my one true talent is getting great people to work with me, and judging by the quality of people involved in OpenNMS, it is almost a superpower.
I worked out of my house and helped maintain the community mainly through the #opennms IRC channel on freenode, and surprisingly the project managed not only to survive, but to grow. When I found out that Steve Giles was leaving Oculan, I applied to be their new CEO, which I've been told was the source of a lot of humor among the executives. The man they hired had a track record of snuffing out all potential from a number of startups, but he had the proper credentials that VCs seem to like so he got the job. I have to admit to a bit of schadenfreude when Oculan closed its doors in 2004.
But on a good note, if you look at the two guys in the above picture right next to the cake, Seth Leger and Ben Reed, they still work for OpenNMS today. We're still here. In fact we have the greatest team I've every worked with in my life, and the OpenNMS project has grown tremendously in the last 18 months. This July we'll have our eleventh (!) annual developers conference, Dev-Jam, which will bring together people dedicated to OpenNMS, both old and new, for a week of hacking and camaraderie.
Our goal is nothing short of making OpenNMS the de facto management platform of choice for everyone, and while we still have a long way to go, we keep getting closer. My heartfelt thanks go out to everyone who made OpenNMS possible, and I look forward to writing many more of these notes in the future.