I was on a bus in Ireland when I heard the news about the Paris attacks. I had gotten up early to head to the opposite coast as I wanted to see an Ireland that wasn't Dublin, and I don't think I could have picked a better spot than Doolin, in County Clare.
Today was to be a particularly gray day and it was dark when I started out. It didn't get much lighter as we rode to Galway, and when I changed buses the driver was playing the news from the radio. Of course the only story was about the more than one hundred people killed in senseless violence overnight.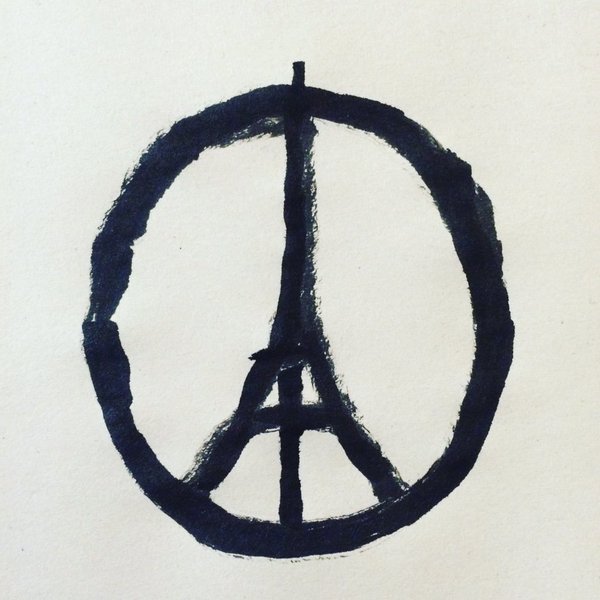 I have some friends in Paris and so I immediately reached out to them. As I waited for a response, I pretty much sat, stunned, as the Irish countryside passed by outside my window.
Once I got to my B&B, I dropped my bag and took a long walk, looking for lunch. The day reflected my mood perfectly. It was like nature itself was in mourning. At high noon the sky wasn't much lighter than at dusk. A roaring wind came off the sea, churning up angry whitecaps. The clouds drizzled rain like tears.
By the time I was getting cold, I found the recommended pub and went in. It was packed, as this is a popular tourist location and they drop people off by the bus load. Since I was alone, I offered to sit at the bar to make room for the next coach, which arrived about five minutes after I did.
A boisterous crowd of mainly young people came in and crowded around the bar where I sat. They were laughing and joking, blissfully unaware of how quickly that can change. I took a little comfort in the normalcy of that moment: people ordered food, the Indian guy asked about vegetarian options, and drinks were poured (including an inexplicable request for a bottle of Miller beer).
As I ate my meal, a nice smoked salmon salad and a wonderful seafood chowder stuffed with mussels, I was reminded of the last time I had mussels this good, which just happened to be in a Belgian restaurant in Paris called La Gueuze.
And I struggled with a dilemma. The Paris Open Source Summit is next week and I am supposed to be there. Heck, I lobbied hard for the opportunity to participate. But while the chance of anything happening is very slim, I can't say I'm eager to be in Paris at the moment, especially as part of a large crowd.
So I decided not to go.
There were a number of factors. Part of it was concern for my wellbeing. Part of it was concern for my family. I travel a lot and I know they worry no matter where I'm going, and they have been very understanding when I've gone to places that don't exactly have a reputation for safety. I refuse to put my decision on them, but it did play a role.
But I think the deciding factor was actually how much I enjoyed Paris on my last trip. It is an amazing city, and I didn't want that memory ruined by seeing soldiers on every corner or having to go through intrusive screening at every point of entry.
It makes me feel like a coward. The terrorists have won.
And I can't understand it. Of all the countries in Europe, the French bend over backwards to be accommodating to different views and ways of thinking. The French motto "Liberté, égalité, fraternité" leads with the word for freedom, and they go to great lengths to explore all the weird corner cases to insure their society is as free as possible.
And that's what makes me the most angry. I'm certain these acts are going to change that. Not only will it move France to be more restrictive, it will give the more aggressive countries reason to step up military action in the Middle East. A lot more people will die, and most of them will have darker skin. This will create more terrorists, and the cycle will continue.
I hope France and the rest of the world shows some restraint. I'm not, in any way, shape or form, suggesting justice not be sought out, but I'm reminded of something I saw many years ago.
I was living at my parents' house and my two-year-old nephew was staying with us. It was a beautiful day and so the windows were open, and there was a gentle breeze throughout the house. One strong breeze caught the door behind the boy and slammed it shut. It scared him, so he reached out and smacked the door, as if to punish it. It struck me as a perfect example of a childish reaction – I'm scared and angry so I need to strike out at the nearest thing, whether is makes sense or not.
I hope the world remembers that we are not children.
I don't have any answers on how to make things better. The best I can do is to promote free and open source software. I know it sounds silly, using FOSS to cure the world's problems, but in every place I've visited (and I've been to 37 different countries) I've found like-minded people in that community with a strong desire to create new things through cooperation. It creates an environment where anything is possible. In a small way, it creates hope.
I am writing this sitting on my bed at the B&B. It's cold, and the wind is whipping around the house, but I feel cozy and safe. Here's a wish that everyone can find a place to be cozy and safe, as well as the hope that tomorrow will be a better day.