Yes, I am a bit frustrated at the moment. This post is something of a plea that someone within the huge organization known as the Dell Computer company has a clue and can help me out. Before you think I'm just a big hater, here is a shot of one of our computer racks: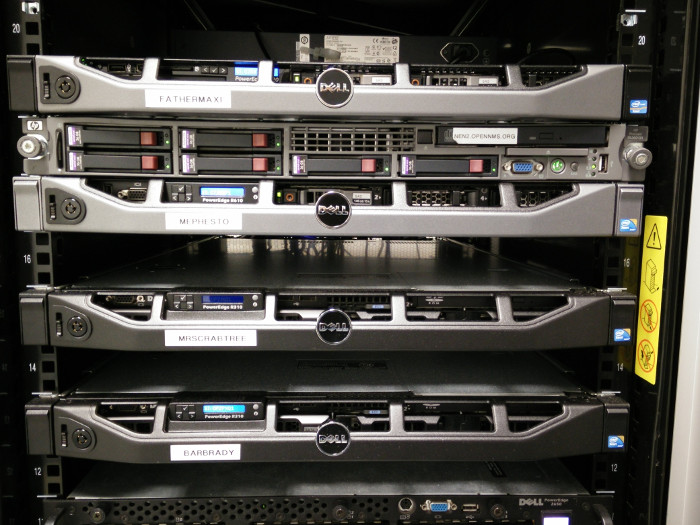 As you can tell, we do use a lot of Dell hardware (and yes, there is an HP box squeezed in the middle there).
I work hard. As a result of that, I feel I deserve nice things, and what I really want right now is a nice laptop. But I want a laptop that runs Linux well.
I've looked at the systems from System76, but I want a higher density screen than they offer. I would look at the new X1 Carbon from Lenovo, but I'm still angry at them for Stoopidfish, and while I plan to wipe any laptop I get from any vendor I still think it will be some time before I can give them money.
No, I like to support Linux-friendly vendors, so I recently ordered the Dell M3800 laptop, Ubuntu edition. I ordered it on February 2nd.
A couple of my three blog readers have contacted me eager for my review, but I wasn't able to publish it because I have yet to receive the laptop. In fact, it appears my original order has been canceled. Here is the story.
I placed the order on the 2nd, and got an estimated delivery date of the 18th. That would have been perfect as I would have the new machine just before SCaLE. Unfortunately, it was not to be, and my estimated delivery date was pushed out until the 26th.
Well, the 26th came and went with no update from Dell. I finally decided to contact them and I was told they would expedite my case.
This week I was told that "I regret to inform you that we are not able to process the order 769577335 due to configuration mismatch."
WTF?
You drag me along for a month and then tell me that there is a "configuration mismatch"? Now I have to reorder and go through the whole process again? Plus, there was no "mea culpa" and no offer of, heck, free shipping or an expedited order – just "so sorry, try again".
Grrrr.
Like an idiot, I decided to try again.
I got to the order page, and that's when I found out what the magical "configuration mismatch" was. It turns out that you can't order a Dell M3800 laptop with Ubuntu and a second hard drive.
Seriously.
In the configuration I want, I want a 256GB SSD for the primary drive and a 1TB HDD for the secondary drive. That should make the operating system fast while giving me lots of room for files and git repos on the slower HDD.
But when I check it, I get this error:

Choosing Windows makes it go away.
I was dumbfounded. The issue that kept me from getting my laptop, and it appears the issue that will keep me from getting this laptop at all, it that Dell doesn't know how to deal with a second hard drive on Ubuntu.
Just to make sure, I did one of those chat-thingies:

Time 	                Details
03/06/2015 10:24:51AM 	Session Started with Agent (Jayant K S)
03/06/2015 10:24:51AM 	Tarus Balog: "."
03/06/2015 10:24:59AM 	Agent (Jayant K S): "Welcome to Dell US Small Business Chat! My name is Jayant Kumar Singh and I will be your Dell.com Sales Chat Expert. I can be reached at jayant_k_singh@dell.com or via phone at 1-800-289-3355 ext. 4166817. How may I help you today?"
03/06/2015 10:25:07AM 	Agent (Jayant K S): "Hi Tarus :-)"
03/06/2015 10:25:26AM 	Tarus Balog: "I'm trying to order a Dell M3800 laptop with Ubuntu, but it tells me I can't get a secondary hard drive with Ubuntu, only Windows. Is this true?"
03/06/2015 10:25:52AM 	Agent (Jayant K S): "I am sorry about the inconveinence. Glad you chatted in today, I will try my best to help you"
03/06/2015 10:25:57AM 	Agent (Jayant K S): "Let me check"
03/06/2015 10:27:17AM 	Tarus Balog: "I get that error"
03/06/2015 10:27:26AM 	Tarus Balog: "and it goes away if I choose Windows"
03/06/2015 10:27:37AM 	Agent (Jayant K S): "ok"
03/06/2015 10:29:55AM 	Agent (Jayant K S): "I am working on it please stay connected"
03/06/2015 10:30:14AM 	Tarus Balog: "ok"
03/06/2015 10:32:12AM 	Agent (Jayant K S): "how much boot drive space do you need and how much for the second"
03/06/2015 10:33:24AM 	Tarus Balog: "I was going to order a 256GB SSD for primary and 1TD HDD for secondary"
03/06/2015 10:34:12AM 	Agent (Jayant K S): "Give me 1 Minute"
03/06/2015 10:36:53AM 	Agent (Jayant K S): "I am sorry the second hard drive is not allowed"
03/06/2015 10:37:44AM 	Tarus Balog: "Okay"

My guess is that the Dell provisioning process is so rigid that when it comes to Ubuntu they don't know how to mount the second drive. This causes the whole thing to fall apart. I don't know why just mounting it as /data isn't acceptable, but just when I thought Dell was getting it together when it comes to Linux it appears it is just so much black magic to them.
My hope is that someone from the Dell Linux team will actually see this post and will reply. There is only one thing I really want to know and I have not been able to find out: are there any special PPA's that ship with the Ubuntu version of the M3800 for drivers, etc. If not, then I'll buy the Windows version, wipe it and at least have the hardware I want. Yes, it costs me over a $100 more for something I'll just throw away, but at least I'll have my laptop issue solved.
This whole process has really soured me on a brand I used to like. My current laptop is the Dell XPS 13 Ubuntu version I bought several years ago and I still like it – I just need more screen real estate. I see now why Apple is able to dominate this market. They always under-promised and over delivered (I never had an Apple order show up late and most showed up a day or more early). I never got some crazy "configuration mismatch" errors when trying to place an order.
And in the few times that Apple made a mistake, they went out of their way to make it better.