Another post for me to practice my typing, with no OpenNMS content, although some of you might find it interesting.
This weekend I went to see Sheryl Crow perform at the Durham Performing Arts Center. I remember the exact moment I got old, and that was at a concert as well. It was Sting with Natalie Merchant opening, and Andrea and I decided to leave during the encore to beat the traffic. Contrast that to watching The Boss at the LA Civic Center where we stayed until they kicked us out as we sat watching the roadies tear down the stage.
This concert also made me feel a little old, as we were at the lower end of the age demographic. I was introduced to Sheryl Crow's music by my friend Bill Hinkle, but that was twenty years ago back in 1993. I didn't realize that Sheryl was 51, several years older than me, and the average age of the crowd was higher than that.
Not that we old folks don't know how to rock.
The main reason we went was that I managed to score fifth row seats. They were toward the left of the stage, but as I've grown older I've come to expect a little comfort when I go out. Sad, I know, and it is rare enough that I don't go out often, but I think my stage rushing, general admission days are over.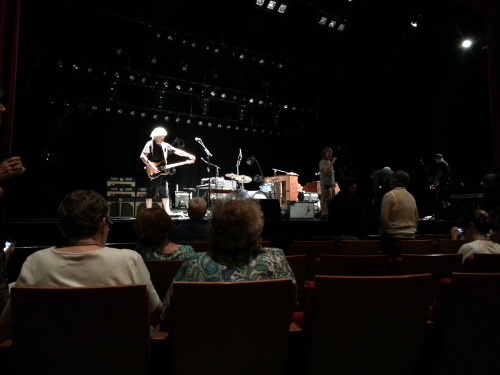 The opening act was a trio headed by Dustin Lynch. He was accompanied by another acoustic guitarist and a pretty blond woman on fiddle. The set was kind of forgettable, but I can remember thinking to myself "Do I like this guy enough to steal his music?"
I didn't.
I also thought it was funny that the cameraman kept the camera on the blond through most of the set, even when she wasn't actively doing much.
He tried to pander to the audience, bringing up references to our troops overseas, God, etc. Not that I mind those aspects of country music but it came across as patronizing. At one point he launched into a bit about how all the men in the audience where there because their woman dragged them to the concert, and Andrea and I were both like "wha?". First, I got the tickets, and second, it's Sheryl Freakin' Crow, known to appeal more to men than women on average.
Anyway, the main event started about 9pm. Sheryl came on stage with a custom red, white and blue guitar and a rocking band consisting of two other guitarists, a drummer, a bass guitarist, a woman on keyboards (married to the bass guitarist, we learned later) and another keyboardist/slide guitar/jack of all trades guy to round out the group.
It was a pretty good show.
She is a tiny woman – even in platform shoes with five inch heels she wasn't very tall, but her voice is still huge.
The theme seemed to be fresh guitars, as there were new ones swapped out almost every song. I'm not sure if Sheryl uses a unique tuning for each song, but it was kind of fun to keep count of the different instruments. At one point she played something that I think was a baritone mandolin, something I've never seen before, but it had eight strings and a shape that seems to suggest a mandolin on steroids.
She did the hits and a number of new songs. They also did a couple of covers, including "Don't Bring Me Down" by ELO and they ended the show's encore with Led Zeppelin's "Rock 'n Roll".
My biggest complaint was with the sound. Lately, every show I see, the vocals just aren't mixed right, and you simply can't make them out. Luckily I was familiar with enough of her music that it didn't ruin the show.
While she is going for more of a country flair vs. rock in her later music (not a bad business move in my opinion) one song that I think will be a hit, maybe even a crossover hit, is "Shotgun".
With the lyric:
Drive it like it's stolen,
Park it like it's rented,
What's the use of money,
If you ain't gonna spend it?
I was sold. Here's a clip I found of it, and at least the part of the band on the front row was with her in Durham.
Sheryl Crow – Shotgun (Live) from Bootheel Vids on Vimeo.
It was a fun evening. The DPAC is a great place for shows, and even though there was a Bull's game going on at the same time, it was pretty easy to park and leave. Of course, I did have one chore to do before leaving.