While spring has been late coming to North Carolina, I expect our hot summers to be here soon, and that always causes concern as the air conditioner for the server room sometimes has issues keeping up. I used to use the temperature sensor in our ancient APC UPS, but I think the SNMP unit on that device has gotten a bit wonky and it tends to "stick" at a particular temperature.
One of our OpenNMS partners in Germany, Didactum, recommends sensor units from a company called AKCP. When I was there for the OpenNMS Users Conference I asked him if I could buy one, and he was kind enough to donate a SensorProbe2.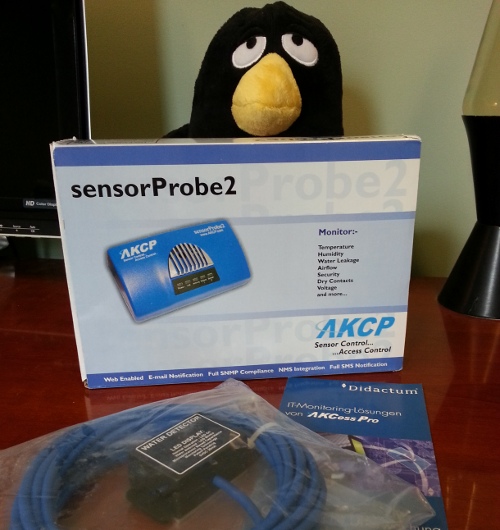 This is a small unit that you can mount on a wall and it supports up to two sensors. It shipped with a temperature/humidity probe and Roger added a water sensor (in case of flooding). Each sensor plugs into the unit via an RJ-45 connector.
It comes with a setup disk that is Windows only, but I decided to connect to its built-in web server over the network. The default IP address is 192.168.0.100, so I just set my address to 192.168.0.1 and connected to it via a crossover cable.
The web page is plain but functional, and it was easy to change the IP and set up my unit.

Of course, we supply the default configuration for these units with OpenNMS, so all I had to do was discover it and I started to get graphs, automagically.


I also set up the OpenNMS server as a trap destination in case any of the thresholds are met. I'm hoping I don't ever see those events but it is nice to know that I'll have some indication if there is an issue with the environment in the server room. Thanks to Roger and the team at Didactum for making that happen.