It's spring, and down South that means racing. Last weekend Jason Tower headed out in the OpenNMS Spec E30 BMW, and this time the logo is on the trunk as well as the hood.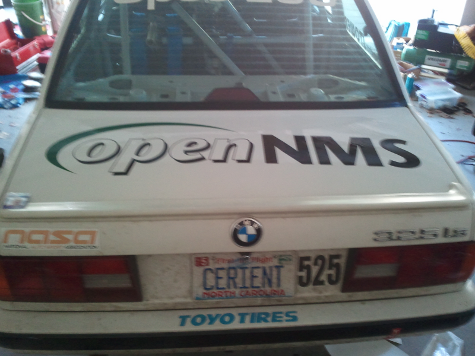 His blog is down at the moment, so I figured I'd post the race update from last weekend here.
Last weekend was my first race in six months following thumb surgery to repair a torn ligament (still in the process of healing but steadily improving). The weather forecast called for rain on and off all weekend which always makes things challenging – you never know which tires to run or how to set up the car's suspension for optimal handling. Saturday's qualifying session was run in damp conditions and traffic was a bit of a problem. Due to the slow pace we only had three or four laps to work with and I never had a clean lap. Still, I managed 8th out of 21 cars which isn't too bad considering the amount of rust I had to shake off. The race itself was unfortunately a disaster. A car went off in turn 3 on the first lap which summoned the emergency vehicles to the spot. The next time around another car failed to see the yellow flag, went in too hot, and spun once he finally saw what was happening. The car behind him had to take evasive action to avoid contact so he drove off track and smashed into the wrecker, damaging it and totaling his car. Hitting an EV is one of the worst sins you can commit on track, and as a result the race was red flagged (stopped completely) and our day was over. The worst part is that both of the drivers involved were close friends of mine, and it cast a long shadow over the event. It's also a shame because I picked up two positions on the first lap and was in 6th overall (and gaining) but since the entire race was disqualified it didn't count for anything.

2012 VIR March Madness – Spec E30 from Jason Tower on Vimeo.

On Sunday the usual morning qualifying session was changed to a qualifying race to make up for Saturday's red flagged race. Again I started 8th but following the previous day's events I drove much more conservatively than usual and it showed. I lost a position and didn't take advantage of passing opportunities that I would have normally, finishing ninth. So I had to start in ninth place for the afternoon main race which put me behind several slower drivers, meaning I'd have to work my way around them in traffic before I could attempt to make an assault on the leaders. Sadly this never happened. I missed a shift at the start which cost me several positions before the first turn, allowing even more "slower" cars to get in front of me. To make matters worse we were on a damp but drying track, so there was a "dry line" that was fine for a single driver but made passing much more difficult because any passing maneuver would have to take place on the wet portion of the track. Furthermore there were a couple of local yellows in corners that usually lend themselves to passing opportunities, and since you can't pass under yellow it took me a long time just to get past the slower cars in front of me, and meanwhile the leaders were half a lap ahead. A full course yellow bunched the field which helped, and a few laps later a slower out of class car offered me a clean line around the outside of turn 15 which I gladly accepted. However he was unable to hold his inside line, drifted outside towards me, and I was forced to drive off track to avoid contact. As a result I spun across the track (fortunately no one was behind me), nearly flat spotted my tires, and wound up deep in the wet grass. By the time i got back on track i was hopelessly behind the leaders and had little choice but to circulate the track in relative solitude until the checkered flag. Despite all this rotten luck I still managed a sixth place finish thanks to attrition and a couple of late passes on the last lap.

2012 VIR March Madess – Spec E30 from Jason Tower on Vimeo.

A bit of a disappointing weekend overall but there were a few rays of sunshine – the car felt good, my still recuperating thumb didn't give me any problems, I had no mechanical problems, and brought the car home in one piece which is more than several people could say (four of my close friends suffered significant damage before the weekend was over, including the aforementioned totaled car). A bit of bad luck and some conservative driving kept me from contesting the podium but I was in the top half of one race and the top third of the other two which I'll gladly take given the circumstances.

The next race is at CMP in May, and as it's my favorite track and I'll be charging hard for a top finish!