While very unstructured, we do try for some organization at Dev-Jam and it starts (and pretty much ends) with a morning standing scrum.

We had to switch to a standing scrum after the first day since people were so excited to be working together again, scrum was taking forever to complete. By making everyone stand, it helped shorten things considerably.
I spent the day updating the OpenNMS Wikipedia page. This was my first foray into editing Wikipedia, and while none of my edits have caused problems, we did end up having the page for The OpenNMS Group deleted rather quickly. Wikipedia has a policy of not including anything but notable companies (for which we don't qualify) but I wanted to have a page there, not to promote The OpenNMS Group, but to better separate the .com side of the project from the .org. Oh well, I understand their reasoning, so all we need is about 30-40 independent articles on the OpenNMS Group to try again. (grin)
Toward the end of the day the room filled with the wonderful smell of smoked BBQ, courtesy of Mike Huot.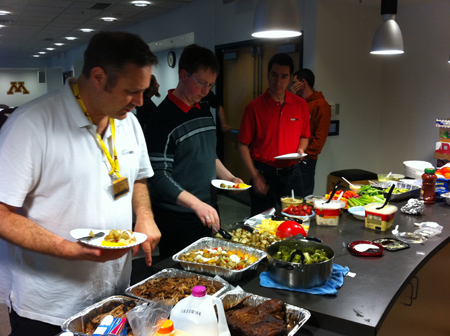 Once again we had an amazing meal, and I really appreciate the work he put into it.