Tomorrow we head off to the SouthEast LinuxFest down in South Carolina. The Wagon of Wootness is all packed.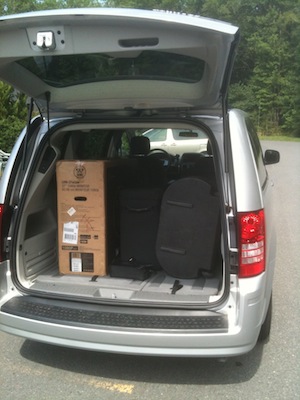 Brad and Barry are riding down with me (Barry has the Mi-Fi) and Jeff is joining us, coming up from Atlanta.
For those of you going, please stop by the booth. This is the first conference that we have been able to sponsor, and we're a "Diamond" sponsor at that. We get a ballroom named after us – phear.
I'm involved with three talks on the schedule:
At 1pm on Saturday, just after lunch (sigh), I'll be recounting some of the things I've learned in running a business based on free and open source software.
Later that day, at 4pm, I'm participating in a monitoring roundtable discussion with two Open Core vendors, Zenoss and GWOS. We've been promised a "celebrity" moderator, and I'll do my best to make sure it doesn't suck.
Finally, on Sunday morning from 9am to 11am I'm giving a presentation on OpenNMS. It will be an overview of the application along with concrete examples concerning the customization of events, service assurance and data collection.
Will have the booth in the Expo area staffed both days, so please come by and introduce yourself (or say "hi" if we've met before). Don't let the fact that I'm a speaker scare you off – there are actually talented speakers in attendance as well. (grin)