I got a late start to the conference on Wednesday. Since I have Internet access at l'apartment there is nothing preventing me from working, and we've been extremely busy lately. It's all good, and much better than having too much time on our hands.
I've also been writing a lot. This week alone I filled out a long survey, wrote a 2000 word open source business article for a website in Canada, and made time to complete another long survey as part of the Robert X. Cringely Not in Silicon Valley Startup Tour.
The idea is to create a reality television show profiling 24 startup companies which will air on a cable television network. They've had over 400 nominations (ours came from Tanner Lovelace who I first met working at Oculan) so we have, what, a 6% chance out of the box of making it? I hope my answers to their questions upped that a bit.
You can check out our nomination and comment on it if you like. I did mention that I live on a horse farm so since he's bringing his kids maybe visiting the farm will be an extra draw. Plenty of RV parking, too.
I arrived at the conference early afternoon and spent most of the day chatting with people about OpenNMS and our work at the TMForum. Did I mention that this is a suit-heavy conference?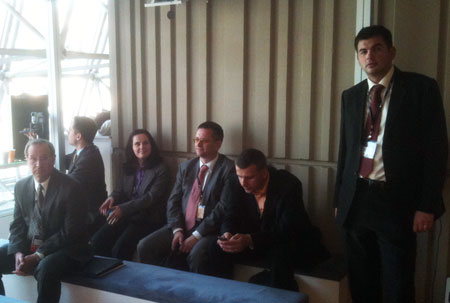 I was even wearing one.
I'd like to be able to point you to some information about our open source interface project, called JOSIF, but all of that is locked behind a membership wall. One of the frustrating things about trying to bring open source concepts to the TMForum is that they are very conscious of intellectual property of any kind and trying to free up some of our information is a bit of a struggle.
In the evening we met up with some people from Swisscom in Bern and went to a delightful restaurant called Le Maison de Marie. We then walked back to the apartment along the waterfront.
As I looked out and over the lights of Nice, I had this one surreal moment where it hit me that, although I work in open source (which is often associated with "cheap" and bare bones), here I was, a country boy from North Carolina, walking along the French Riviera on a warm spring evening.
Not bad, not bad at all.