Yesterday I, along with a large number of other people, watched the New Orleans Saints win their first Super Bowl.
Last year I watched the game in a hotel room in Milan (when my Steelers won their sixth championship – number 43 we miss you) but this year I was able to hold a little party.
Now, like hot dogs go with baseball, pizza is fast becoming the food of choice for football, and no Super Bowl party would be complete without some Papa John's.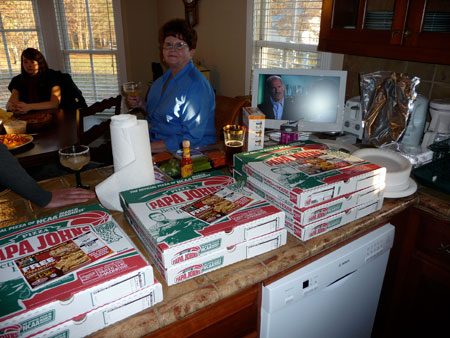 Of course, my Mom also showed up (that's her behind the pies – "Hi mom") and she brought enough food to feed an army. I think everyone left stuffed.
Anyway, Denise Dubie at Network World wrote an article about how Papa John's uses OpenNMS, and how they delivered 6 million slices of pizza yesterday.
They worked so we didn't have to (well, except for Mom. Thanks Mom).