Sorry for the radio silence blog-wise for the last week or so. Things have been crazy around here.
I really enjoyed the conference in Nürmberg, but much more for the company and the food than the content, since it was primarily a Nagios gathering. Not that Nagios is bad, but OpenNMS is different and there wasn't much I could use in the Nagios-specific talks (although the people who use Nagios remind me a lot of the same people who use our stuff).
After the conference was over, Ronny Trommer and I met up with Klaus Thielking-Riechert. As I mentioned before, Ronny and Klaus, along with Alex, are writing a German language OpenNMS book. They have over 100 pages written already, and I'm eager to see it in print. It's based on 1.8, so we'll need to get that out before they can get it printed, but we hope that will be done soon.
That night we went out to eat at an Italian restaurant, of all things.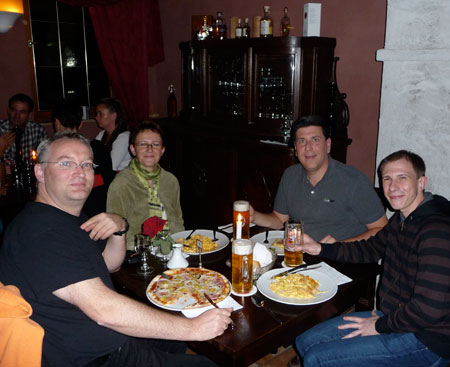 Klaus, his wife Sabine, me and Ronny
The food was good but the restaurant was chosen because they serve beer from Steinbach Bräu – which was incredibly fresh and good. It's not pasteurized so it has a very limited distributation and shelf life.
The next day I went back to Rome for the flight home, but not before getting a nice döner kebab on the way to the airport.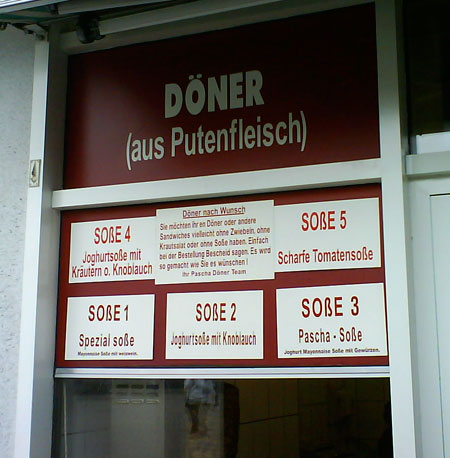 The flight back home was uneventful, although long. However, it wasn't as long as Ben's recent flight from China. Due to a snowstorm in Beijing he waiting on the ground for 12 hours before the 13 hour flight home. A total of 25 hours in the same airport. That's insane.