I'm spending the week in Milan with our kind hosts at Sun Italia. They provided a training facility for both our Basic and Advanced courses and they are also hosting an OpenNMS business seminar on Wednesday.
Unfortunately, the curse of the upgrade took an evil turn when, while I was upgraded to business class from JFK to MXP, my luggage didn't arrive when I did. This is the bag with my dress shirts, my pants, and my very American "tidy whitey" briefs.
All I had with me was a pair of decent jeans and my Troy Polamalu jersey, and since I had to teach on Monday I had to go shopping.
Thus for the first time in my life find myself now decked out in Armani. Even on sale I think I spent more in one hour on clothes than I spent all of last year (since my wardrobe consists mainly of OpenNMS polos, Harley T-shirts and Levis it isn't all that hard). I am head-to-toe stylin'.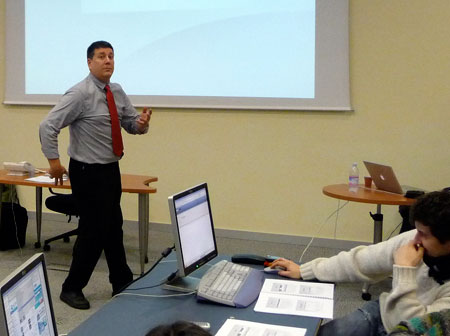 The pants are pretty neat, I like the way they fit, and the shirt is made of cotton from plants grown by ageless monks in Tibet that is so soft I can't cross my arms – they keep slipping off each other. The Armani T-shirt is even comfortable, although for a basic white T-shirt it cost more than I have spent on business suits (remember, I have to use US dollars). I even got a pair of those European socks that seem to come up to mid-thigh, which makes me feel like the Major from Ghost in the Shell.
But I can't seem to get comfortable with Armani's interpretation of the men's brief. Let's just say I have a lot of acreage to cover, and I've seen more cotton on the end of a swab than went into these undies.
Luckily my bag is currently in the same country as me, although I have no real idea when I can expect it to make it to my hotel. Shouldn't be too long now, but it snowed all day today making the usual uncertainty with such things in Italy even more so.
I'm also pretty zoned out due to lack of sleep. Being a Pittsburgh Steeler fan I stayed up to watch the game. Wikipedia actually had the information we needed to figure out which channel to watch, but the time difference meant that it wasn't over until after 4am.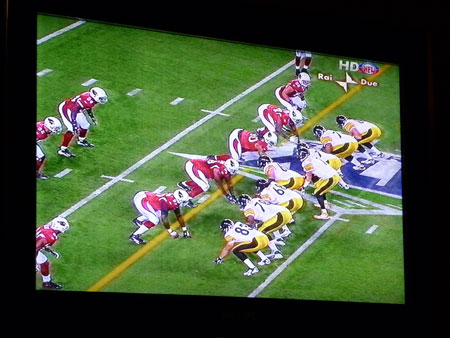 It was weird watching the game in Italian. What was even stranger was the lack of commercials. During the traditional breaks they just showed a wide-angle shot of stadium or highlights from recent plays.
Soon it should be time for some pizza and then off to sleep. I should be better in the morning – rested and I hope adequately covered.