Well, not really, but my luggage did arrive at the hotel this morning, so I'm back to khakis and OpenNMS shirts.
I've been noticing a lot of "bag" related links on Coté's blog so I thought I'd share my opinions on the best luggage out there.
For traditional luggage, I'm a huge fan of Eagle Creek. I own two pieces from them. The Switchback 25 is both wheeled luggage and a backpack. While I rarely use the backpack function it does come in handy when either hiking to a laundromat on long trips with a bunch of dirty clothes or navigating places with lots of stairs (such as Paddington Station in London). It comes with a detachable day pack that is very useful for bringing a small subset of your stuff on board the plane and you can then reattach it when you arrive at your destination to make it easier to lug around.
I also own a Tarmac 22 as a carry-on bag. It's smaller than the Switchback but it is the largest Tarmac that still fits in the overhead bin. It is also expandable should I find myself with more stuff to bring home than I took.
Both bags are extremely well made and come with a lifetime warranty. I actually used the guarantee for my Switchback when a zipper broke, and outside of the cost of shipping it to them the repair was free. In fact, I ended up with a completely new bag which was a slight bummer since the model I had came with a curved handle (the handle didn't pull straight out of the bag but instead was curved slightly making it easier to pull) which has since been changed to the standard straight handle you see on other bags.
I've also spent a lot of time looking for the perfect laptop bag. Outside of standard features I also had the additional requirement that it be small enough to fit inside the saddlebag on my motorcycle.
The first bag I bought was from Timbuk2. My friend Demetri owns one for his 12-inch Powerbook and it is pretty slick – nice and compact but with a lot of room for expansion. Unfortunately, the design wasn't as pleasing to me when in came in the larger size to accommodate my 15-inch Macbook Pro. It wasn't as "tight" feeling and seemed to flop around on my back, so I returned it (the process was very painless). To paraphrase Goldilocks this bag was too big.
Attempt number two was with a bag from Booq (I forget the exact model but I think it was a Boa). These are really nice bags with a wonderful design, but it was too tight. Once I had the bare minimum of stuff loaded into it, there wasn't room for anything more. I'm often picking up a book or two to read on the plane and it just ran out of room. This bag was too small. It went back as well and with about the same ease as the Timbuk2 bag.
I finally found my dream bag at Briggs & Riley. The "Vertical Computer Brief/Backpack" meets all my needs. It comes with three sections: one for organizing cards, pencils, pens, etc; a cushioned center section for the laptop and cables (it is very easy to extract and replace the laptop when going through airport security) and a third section for papers, books, camera, etc. While I have never used it as a backpack, it converts very quickly.
Its vertical configuration takes a little getting used to, but I've grown to rely on it. Since it slides perfectly under the airline seat in front of me, having access through the smaller end means I don't have to pull it out as far to remove things during flight. Plus it does just fit inside my saddlebag. This bag was just right.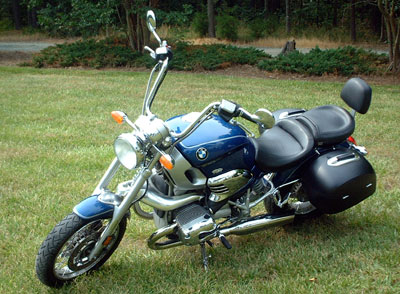 The only complaint I have, and it is a small one, is that if you place the bag over the handle of your roll-aboard luggage there isn't much room to grip the handle. The upside is that the vertical orientation seems to be more stable and I don't find the rolling bag listing from side to side as much.
Anyway, in the spirit of community I just wanted to share what I'd found and hope that someone finds it useful.