I am back from my holiday in Fiji and New Zealand, but not fully back in spirit. That should change over the next week as I get back into the swing of things and it will take awhile to dig out from under the pile of e-mail and news.
We heard about the attacks in Mumbai, of course, but were shielded from most of the news coverage since we didn't watch television or get on the Internet for much of the trip. My best wishes go out to those people affected, and I know that there are probably a couple of OpenNMS users in that group. In more bad news, a friend of mine was diagnosed with cancer in my absence, but I have no doubt that he'll pull through. What doesn't kill us makes us stronger.
It's also December and the holiday season is upon us. Again, I'm not quite in the spirit as I just spent time in really warm, really sunny places, which is not the norm for December in North Carolina.
Believe it or not I didn't think too much about OpenNMS during my vacation. When at home it occupies most of my waking thoughts and quite a few of my dreams, so I was surprised that I was able to unplug as much as I did. A good portion of that was due to the lack of Internet access. As much as I love the network and the opportunities it provides, it has really eroded the divisions between the work place and personal life, sometimes called the "work/life balance". I'm pretty much in my office whether or not I'm actually there, at home or on the road. It takes getting out well out of my element for me to get away from it all, and this trip made that happen.
It was 44 hours from the moment we left Wellington until I got home, but the trip went as well as could have been hoped. I was surprised at the number of people on the domestic flights, but then I realized that it was the Thanksgiving holiday weekend which is known as the busiest travel weekend of the year. I have to agree with Louis CK that we don't appreciate air travel as much as we should.
I wish I could do it more often, but a two week holiday once every other year is about all I can manage. I think the Europeans have it right when it comes to time away from work. I scrambled to see as much of New Zealand as I could in 10 days, and even limiting myself to the north island I missed a lot. During my stay I met a couple from Belgium and a man from Holland who were both spending five weeks in the country, which is more reasonable.
I did get to meet one OpenNMS user for lunch while in New Zealand. Daniel Lawson lives in Hamilton which was on our way out of Auckland.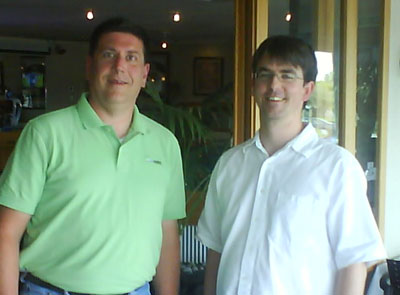 It makes travel fun to know that almost anywhere I go I can run into someone from the community. Next stop: Chicago. Why do I always end up there in winter?