I've always enjoyed coming to Italy. This is my first trip to Milan, and I think it is a beautiful city. It has more trees than in the south, and since Naples is suffering through a garbage strike it is quite a bit cleaner, too. (grin)
I like the Italian people and I love Italian food. On Tuesday, Antonio (OGP) met me at the airport and we headed into town. He took me to eat at Dalla Zia, which is where Matt went last January, and it was very nice. It was funny – of the six tables around us, four were speaking in English, which confirms Milan's reputation as a cosmopolitan town.
Antonio is amazing. He has been involved with OpenNMS since 2003, and he is pretty much solely responsible for the success of the application here. OpenNMS is managing the network of the Carabinieri, the state police, and we are making a lot of progress with various large telecom companies in Italy.
And he continues to surprise me. He likes to sing, and on Wednesday when we were walking to the Metro he started singing Supper's Ready by Genesis. Not only is this an obscure song, it is in English and it runs something like 20 minutes long. He knew all of the words. Amazing.
We spent all day with one of the largest telecom providers in the country. They are trying to migrate away from OpenView to OpenNMS, and we have been doing some great work with them. They are not an easy customer due to the size and complexity of the network, but they seem to be getting a lot of value out of OpenNMS and our services. It was also nice to see that almost half of the people in the room where female. It is rare in data communications to work with women, so I can't yet tell if this is a telecom thing or an Italian thing.
But life on the road doesn't stop with just one all day meeting. That evening Antonio and I met with a company that develops telecom equipment and software in Italy, as well as providing services. They want to use OpenNMS to manage their new offerings. It offers a compelling story, since why should anyone build against OpenView or Tivoli if OpenNMS can be modified and distributed for free?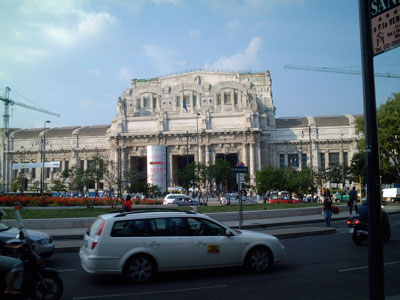 The main entrance to Stazione Centrale
We made it to the restaurant around 10pm. He took me to Centro Ittico, which advertises itself as a "Raw Fish Cafe". Think sushi – Italian style. It was fantastic. It was off the end of the Stazione Centrale, which is huge (check it out on Google Maps).
While we had a meeting this morning, Antonio suggested that I skip it and just take the bus to the airport. The extra two hours of sleep have done me no end of good. Tonight: Oslo