It's been a busy week for me as I had meetings in Sunnyvale followed by a trip to Austin to participate in a Rackspace Customer Advisory Council (CAC) event.

I'm not sure why I was chosen to be on the CAC. While I have been involved with Rackspace since April of 2002 (nearly 12 years – sheesh) we only have one server there. We are looking to deploy a number of new products and we've chosen OpenStack as our technology and Rackspace as our provider, but we are in the development stage and haven't deployed any of it, yet. But it is always fun to come to Austin so I was happy to be able to visit.
I arrived on Wednesday just in time for a networking event. We had a choice of a visit to the hotel spa for a massage, or beer.
Guess which option I chose?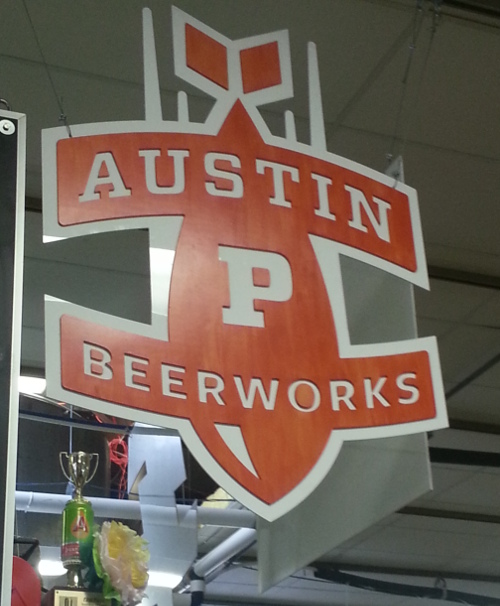 About ten of us got into a van and were driven to the Austin Beerworks. This was my kind of beer tour: it started with us sitting at the bar and then it pretty much stopped. I started off with a red amber called "Battle Axe" and then moved on to "Black Thunder". I was sold on its description as a "German-style Schwarz" beer, and it was pretty tasty (I really liked the Battle Axe as well). Unfortunately, some good conversation got in the way and I talked too much (imagine), so time ran out before I could try the Sputnik. It was worth it, since a lot of that conversation was with Carl and Nick from Simply Measured, and it was cool to learn about how they were using Rackspace to implement their solution.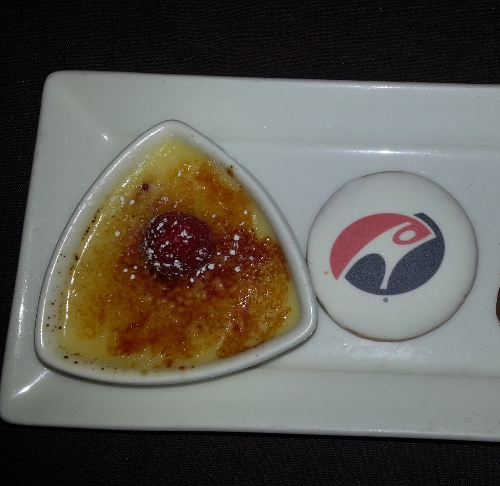 At the evening event at Perry's Steakhouse I was happy to see that John Engates had made it up from San Antonio. I last saw John on CBS News when he was talking about issues with the healthcare.gov website. As a thought leader on hosting he was called to DC to provide input on fixing that site's performance woes.
As we were catching up, a very energetic man came up and joined our conversation. He turned out to be Robert Scoble. Of course I've heard about him for years, and it was a pleasure to finally meet him in person, and yes, he is as crazy animated as his reputation suggests. When it came time for dinner I ended up seated between the two of them, and I likened it to being the creamy filling in a geek Oreo.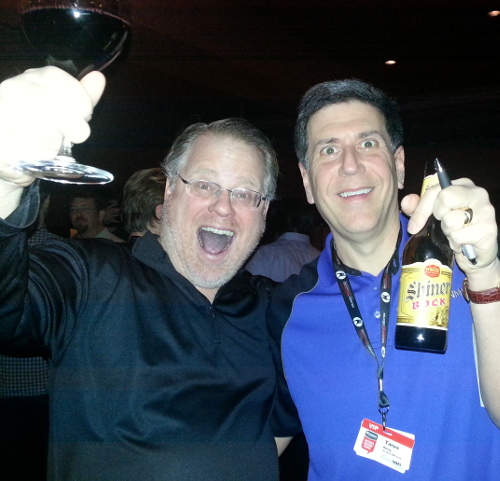 John had just taken delivery on a new, bright red Tesla Model S, so I begged a ride back to the hotel. While I think electric hybrids like the Prius are cool from a technology standpoint, the Tesla is cool from a car standpoint first and technology second. The controls and instruments are accessed almost completely through a touchscreen, and you can control everything from what music you want to listen to through ride height using it (only the buttons for the hazard lights and the glove box are analog). Plus the thing is insanely fast with zero lag – press the pedal and it snaps your head back. With a measured zero to sixty mph time of 4.2 seconds, it is slightly faster than David's stock Mustang GT.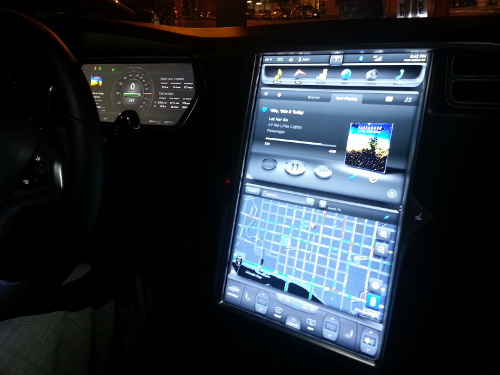 Want.
On Thursday we got to work with a series of presenters who discussed existing and upcoming Rackspace products. I'm not allowed to talk about them due to NDA, but I'm very interested in Rackspace's hybrid cloud model using OpenStack. I like the control and security of a private cloud but I look to the public cloud to handle peak traffic. While getting the two to work was a little kludgy six months ago, they have done a lot of work to streamline the process.
Scoble did a talk during lunch about his new book the Age of Context. It seems worth checking out, although I think I'll pass on getting the $3650 Meta Pro goggles in lieu of Glass.
I also got reminded that I really need to check out the Chef project. Both Rackspace and most of the attendees are heavy Chef users, and it seems to be edging out Puppet in the enterprises I've come across.
Thursday night saw sleet, freezing rain and some snow descend on Texas, so the Friday session was a little lighter on Rackers than was planned (since many of them were going to drive up from San Antonio that morning). It was cool to see that Nathan Anderson , who was a programmer at Rackspace when I started with them in 2002, is now is a position of responsibility, even if that responsibility involves the billing interface. (grin)
It was a fun time, and it made me excited about the possibilities available using the Rackspace platform. Hats off to Sandra, Aisha, Cara and the whole Customer Experience team for a nice conference.