Almost every customer we have starts out with one person with the vision to switch from expensive proprietary software such as OpenView or Tivoli to OpenNMS. We refer to them as "internal champions" and without them OpenNMS wouldn't exist. They are the ones who find OpenNMS, explore its power and then convince their organizations to use it.
One of those people is Eddie van Zanten.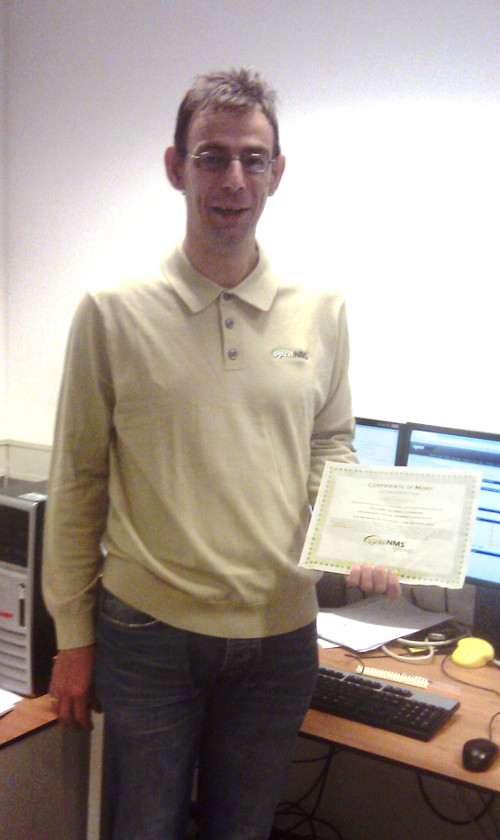 Eddie works for the Ministry of Defense for the Netherlands. They have been using OpenNMS for many years now, and they sent a bunch of people to the US for training. When you come to training you get an OpenNMS polo shirt, but Eddie wasn't one of them. However, the operation of OpenNMS fell to him. His coworker Dennis Waanders wrote to me:
One guy is doing the implementation of OpenNMS in our department. And he is been busy with it for over two years now. Without him OpenNMS would have died a slow death within our department. He alone is keeping OpenNMS alive within our department. At this moment some OpenNMS features are implemented and ready for monitoring and now people in our organisation do see the benefits of OpenNMS. All because of the persistence of one guy. One guy who had faith in the use of OpenNMS.
That is pretty much the definition of an internal champion.
So I sent Eddie a one of a kind OpenNMS pullover, which he is proudly wearing in the picture above. We are here because of people like him.