I just got back from Sweden (my third time this year) and was given permission by the client to discuss the project we are working on there.
The client is Bonnier Digital, part of Bonnier AB. Bonnier is a huge media conglomerate based in Sweden that consists of over 175 companies with more than 10,000 employees. If you read Popular Science then you read a Bonnier media product.
With so many individual companies, Bonnier was dealing with a lot of duplication of IT infrastructure. Bonnier Digital was founded to both consolidate their IT operations as well as to build a business providing world class IT services to other companies. They are deploying thousands of kilometers of fiber around Sweden to bring together various data centers, the largest of which will house nearly [redacted] shipping containers (a lá Google) filled with servers and related equipment.
(I was asked to remove the actual total by the client, but it's "lots")
OpenNMS has been chosen as the application platform which will manage this huge infrastructure, and in doing so provide state of the art surveillance for IT operations in general and the media business in particular.
It was interesting to be in Sweden when it wasn't frozen. While it wasn't warm, the leaves were starting to emerge on the trees, and the days were very long. The first morning I was there I woke up in a panic that I'd overslept since the sun was streaming in the window, but my handy reported it was only 05:58. I liked the fact that the woods were carpeted with this plant with little white flowers.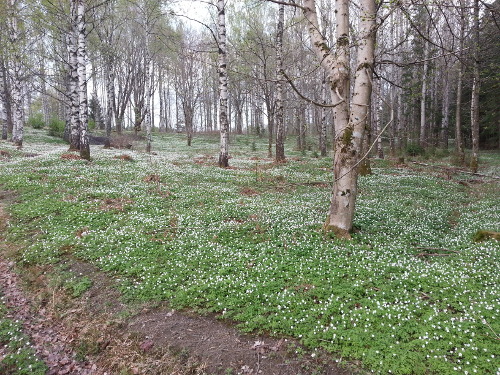 Note that while I'm still curious, I have yet to try that other white thing one finds in Sweden: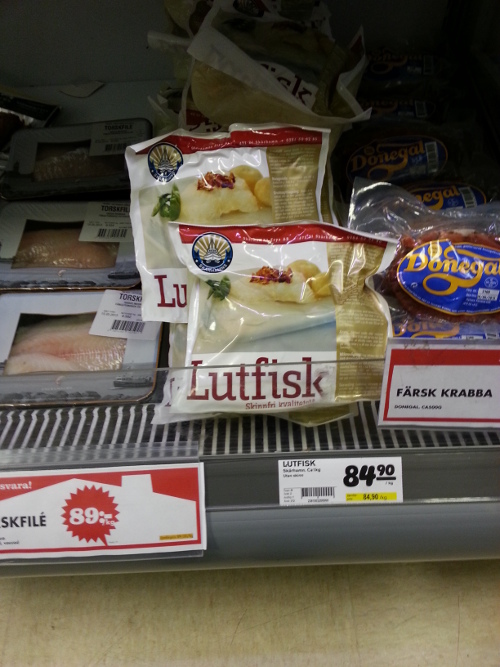 Due to this project we spend a lot of time in country. I was there for two weeks, along with Alejandro. To make being away from home easier, we encourage our engineers to bring along their spouses, and for this trip Carolina joined her husband.
I hope she had a good time, because most days we work until late in the evening and during the week I only saw her a couple of times, but I did get to see her on the weekend. It was pretty gray where we were, so I did a Google search on "sunniest place in Sweden" and we decided to go to Karlstad.
Karlstad is a pretty neat town. There are lots of statues, and for those of you who play Ingress, that means lots of portals. Alejandro and Carolina followed me around as I played the game. I had my picture taken next to a statue honoring Sola i Karlstad (the Sun in Karlstad) a waitress known for her sunny disposition.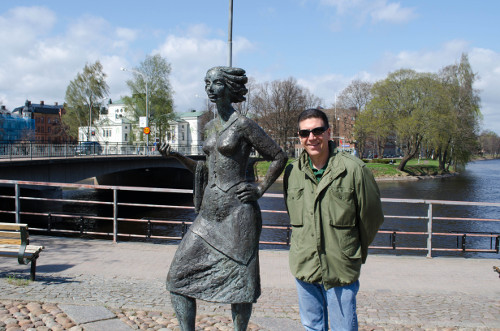 Karlstad is located in the province of Värmland (Bonnier Digital is nearby in Dalsland). There is a museum in Karlstad featuring the art of Värmland, which includes a replica of Viking runes. Fans of Lord of the Rings will recognize them as the inspiration for runes in those books.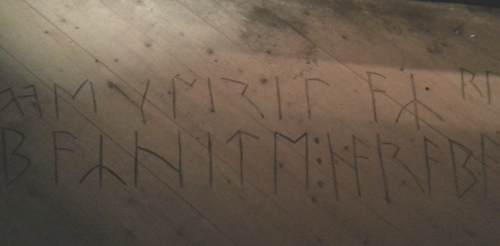 Karlstad is at the top of Lake Vänern, so we drove down to see the water. Vänern is a huge fresh-water lake that is the largest in the EU, and the 26th largest in the world by area (as well as by volume).

It was a nice trip and we did see lots of sun.
My friends Lars and Linda (from the great Moose expedition) invited us out on the lake on the following Tuesday. While it was still a little cold, I can imagine how much fun it would be to be out on the water in the summer time. We saw tons of fish on the fish finder, but they just weren't in the mood to bite.
As part of the tour we went out on Vänern proper, and you could see the waves getting choppier. Vänern is dotted with hundreds of little islands, and you could see several as we bobbed on the water. Since it was cold and the wind picked up on the open water, we turned around and headed back, doing about 27 knots.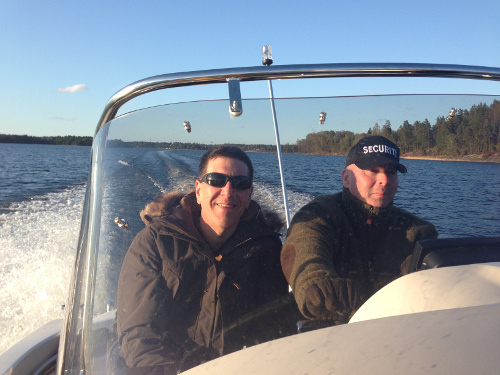 When we got back to the dock, Lars got a call dealing with a security issue and so we sped off at high speed in his Range Rover to try and catch some bad guys. It is something to be doing 60 mph on backcountry Swedish roads, although I must admit that Lars is an excellent driver and I didn't feel unsafe at any time. Still, when I had the chance, I did feel the need to rid myself of some extra fluids I'd been carrying around (grin).
So once again I left Sweden with a few more adventures (Lars and Linda took Alejandro and Carolina out on ATVs the next night, but I was a little too beat to make it) and I look forward to many more in the future.