Okay, so I was all excited that we were opening an office in Georgia. Over the years we have had employees in other states outside of North Carolina (Ohio, Massachusetts and Georgia) but since we never had an actual office presence in those states, they officially worked out of the NC office, and so I withheld NC taxes and unemployment for them and they filed NC tax returns as out of state workers.
Now that we have an actual office in Georgia, I thought I'd better start withholding GA taxes and unemployment. So I contacted my payroll provider to make this happen.
I have been using Quickbooks on the Mac for bookkeeping for many years now, and their preferred payroll provider was a company called Paycycle. I liked Paycycle and never had much trouble with them, but several years ago they were purchased by Intuit and things have gone downhill.
When I contacted Intuit about adding the new state (which used to be pretty easy under Paycycle) I was told I would need to upgrade my service, basically doubling my cost. Considering the time I would have to spend in switching to another provider, I agreed to the change.
Thus began my descent into Payroll Hell.
The moment they switched my service, my Payroll To Do list filled up with seven years worth of tasks requesting me to enter in state tax information, not only for NC but for OH, MA and GA. As I was heading out at the time for a three week trip to Europe, I didn't think much of it and figured I could fix it with a phone call when I got back.
I should have found the time.
The night that payroll was due for January, I was in London. Usually the payroll process takes less than five minutes, but this time it wouldn't complete, with the system throwing a very unhelpful error message. I was lucky that the hotel had decent Internet access, so I was able to contact Intuit support on-line and after about two hours they managed to get the system to allow me to run payroll.
That is when I found out that even though they doubled my fees, they were not going to electronically file my state taxes (sigh).
When I returned to the US I made getting the payroll system fixed a priority. So I called Intuit support again and thought that my request, to simply set the state taxes history to start on 1 January, was a simple one.
I was wrong.
After spending another two hours on the phone, I was told that the only way I could get the system back to normal would be to enter in values for state taxes going back to 2006, for all four states.
Not happening. I told they guy to just put the system back to where it was before, and he said he couldn't do that as the service would now be "Basic" and not include electronic filing of Federal taxes. Again, all of these different levels of service obviously point to the Intuit influence, as Paycycle was pretty much a devotee of the Apple method of simplicity.
I told the guy to forget it, and I would find another solution.
My first stop was the Bank of America site. I've been a client of theirs for decades, but it turns out that their payroll solution is provided by Intuit. No way I was going down that path again, but I did notice that it was considerably cheaper to get it through BofA and that electronic filing of state taxes was included. Another way that long term clients like myself were getting screwed.
When I look for vendors, I like to visit the list of OpenNMS Group customers. It turns out that ADP is a client. Now it is ADP Dealer Services and not the ADP division that would provide my payroll, but I like patronizing companies that patronize us, so I signed up. Our February payroll should be handled by them.
Today I called Intuit to cancel my service. The representative pointed me to a section on the web page where, after logging in, I could cancel the service. So I dutifully filled out the little exit interview, clicked submit and …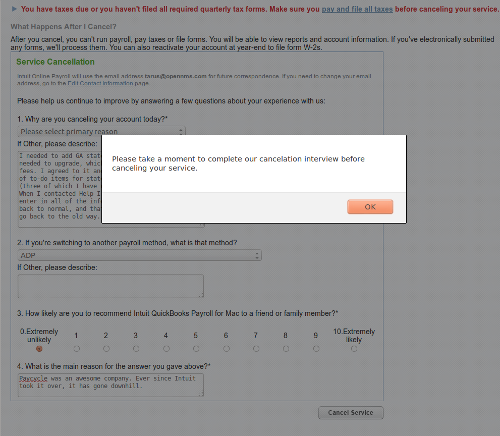 It generated an error asking me to fill out the interview I just filled out.
(sigh)
Another call to Intuit, another 30 minutes or so on hold, and I'm told that I have to clear the state tax "to do" items, the very reason I'm canceling the service, before I could cancel the service.
I'm afraid I went a little non-linear.
After my rant, I sat on hold for ten more minutes until I could speak with a supervisor. She was able to cancel my account. My goodness, maybe they should put her on the front lines.
Anyway, just wanted to post my experience in case any of my three readers was considering using Intuit Payroll services. In a word, don't.