Over the last year or so I've managed to divest myself of most of my Apple products in a project I call #noapple. The last remaining piece of Apple equipment I used frequently was an 11-inch MacBook Air (MBA) that I would dual boot with OS X and Ubuntu.
I was able to use it mainly booted to Ubuntu, but there were certain things that were a little bothersome. For example, the trackpad driver under Ubuntu wasn't nearly as smooth as it was under OS X, and it was extremely sensitive, having little of what is called "palm detection". Quite frequently, in the middle of typing something, the cursor would jump to some random part of the document when my palm barely brushed the trackpad.
But in any case, it worked well enough that I could use Ubuntu when I was on the road.
Back in December I learned that Dell was releasing an Ubuntu optimized version of its XPS 13 laptop. This device is very similar to a MBA, and I was excited to read that Dell had worked hard with the vendor of the trackpad to optimize the drivers for Ubuntu.
I ordered one, and I thought I'd share my experience here.
The ordering process was pretty straightforward. Simply visit the website and configure your system. It's very similar to ordering on the Apple store website. I ordered the laptop and a number of accessories, and in short order received a confirmation e-mail with links to track the progress of the order.
Here is where I hit my biggest issue with the whole process. Like Apple, some of the accessories I ordered shipped in advance of the laptop itself. Now, when I order things on-line, I have them shipped to the office since we have a loading dock in the building with a full time shipping manager who can sign for things. Dell decided to ship my packages to my billing address (my home), even though I had specified a separate location. I'm not sure if this was due to security reasons, but they were unaware of one thing: I own large dogs, one of which likes to gnaw on electrical cords.
So, when my first shipment arrived (a spare power supply and a VGA adapter) it was left on my front porch. I didn't realize it had come, so I left it there. It wasn't until I saw the packaging spread across my front yard that I realized what happened, and found that the VGA adapter had been chewed into two pieces.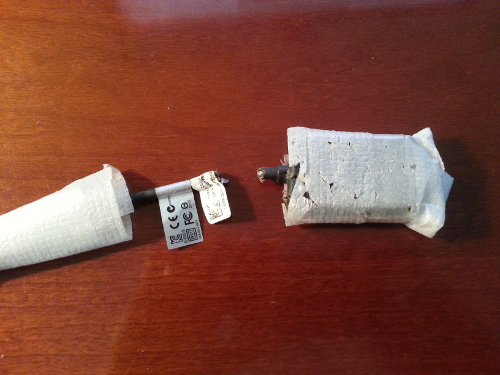 This was on a Saturday and my laptop had not yet shipped, so I wanted to make sure they corrected the shipping address before that went out. I ended up spending nearly two hours trying to reach a human being at Dell. Once I worked my way through their automated system until I got to the question "is this for home or business?" and when I hit "business" I was told to call back on Monday during their normal hours. So I tried again and hit "home" which put me in a queue for about 30 minutes until the call was unceremoniously dropped. I kept trying but finally just bailed and sent in a request via e-mail.
I didn't get a response to that request until Wednesday, but by that time my laptop had shipped. The support representative, Jeanette, apologized for the issues but I was pretty unhappy and pretty much ignored her e-mails and phone calls. Since they were using FedEx, I was able to divert the package to a local FedexKinkos office and managed to get it (sans teeth marks) with a little extra effort.
I wasn't impressed with Dell support, but then Jeanette wouldn't let it drop. She kept trying to call and e-mail. She arranged for a replacement adapter to be sent. She kept wanting to make sure I was happy. In fact, as I write this I have an outstanding e-mail I need to reply to but I wanted to write this up first. If this is the kind of personal attention issues get from Dell, then Dell may have a chance against Apple. But they really need to do something about their automated system. Overall, due to Jeanette's persistence, I am satisfied with my purchase experience.
Anyway, what about the laptop itself? In the style of the Apple fanboys, I thought I'd do a little unboxing.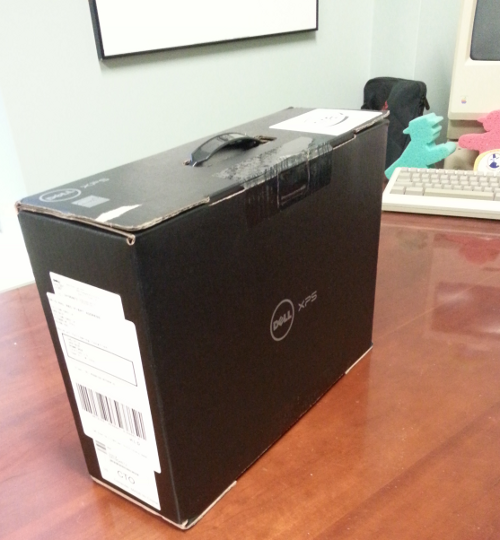 The laptop arrived in a Dell labeled box. I always liked the fact that Apple's boxes are shipped inside a thinner, brown paper box since I like to keep the boxes around, but once I opened it up I realized that the "real" box was inside.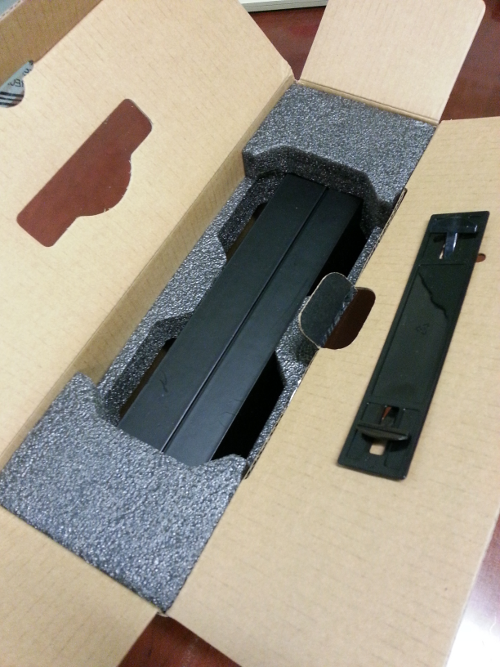 It was a very nice, heavy black box that felt more like opening up a precious jewel or a nice watch than a laptop.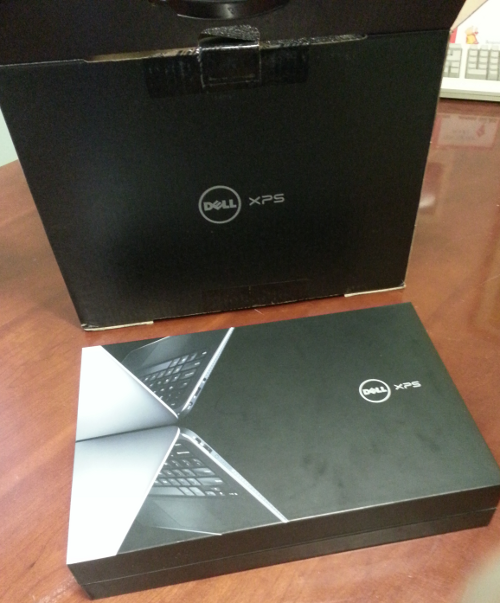 When opened, the laptop takes up most of the box.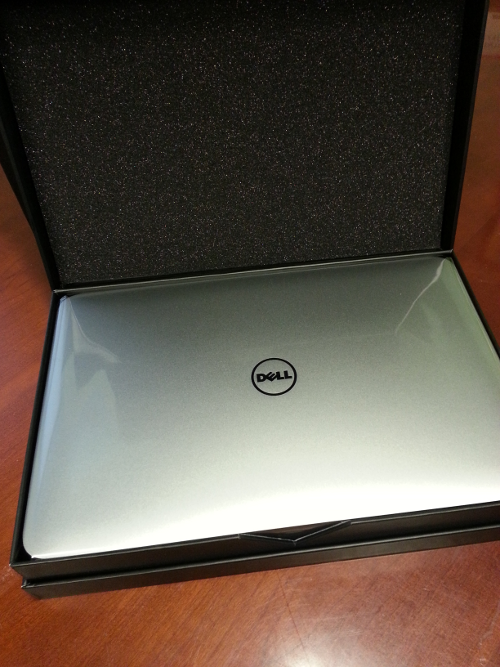 Underneath is the power adapter and a small black folder with basic warranty information. I will miss Apple's power adapter design, I dislike the whole "brick" model and it makes it a little more difficult to use in other countries, but I'll get over it.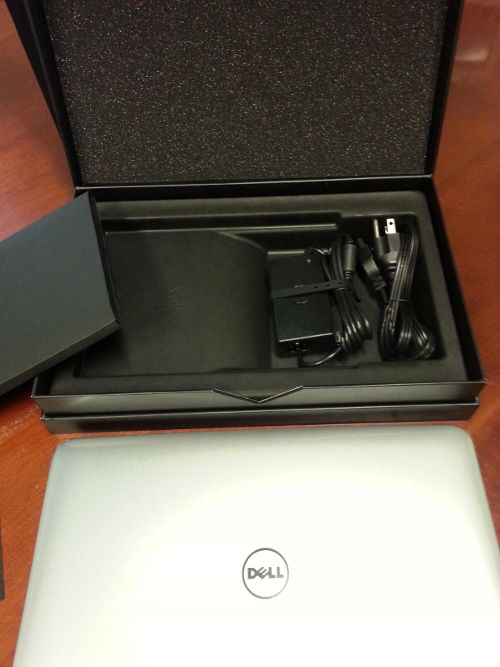 All in all I think Dell did a pretty good job with the packaging "experience".
Dell sells a Windows version of the XPS 13, but this one has a small "Ubuntu" sticker on the wrist rest (which I'll probably remove)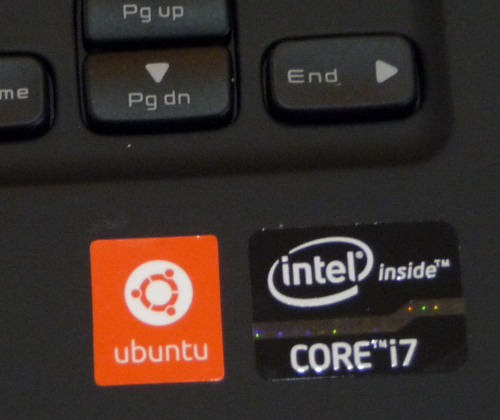 but there is also a permanent Ubuntu logo on the back.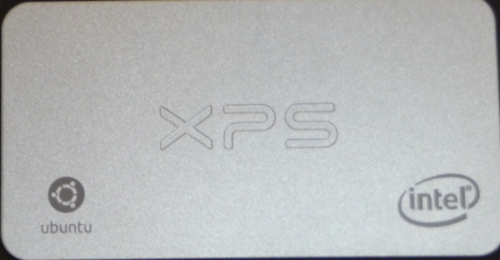 When you start it up for the first time, you get a nifty little "welcome" animation. I apologize in advance for the video quality.
The laptop is slightly larger than my MBA, but then again I bought the smallest MBA and there is a 13-inch version available from Apple.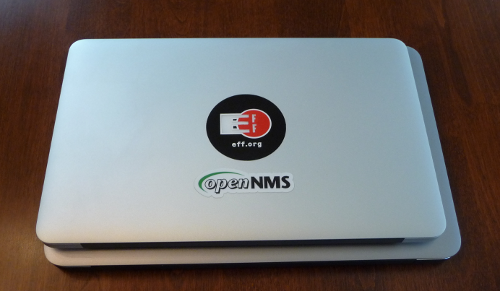 The main place that Dell loses some points is in the screen resolution. It has the same 1366 by 768 pixels as my smaller MBA, and by comparison the equivalent MBA has a 1440 by 900 screen. I like having more pixels, and I get so frustrated when vendors brag about the "HD" quality of their displays, especially with external monitors. To me, 1920 by 1080 is not sufficient pixel density on a 27 inch monitor, for example.
But after using the XPS for awhile, I've found that my old eyes tend to prefer the larger screen.
The XPS is fast. I thought the MBA booted fast, but the Dell boots so fast I don't mind shutting it down completely vs. suspending it.
Now granted, I have rEFIt running on the MBA, but even with that you can see the difference. Note that in fairness the MBA does boot to OS X a little faster, but the XPS still wins on the overall speed issue.
And, yay, the trackpad actually does work well on the XPS. It has the same kind of "natural scrolling" that I've missed. Swipe faster and the scrolling speeds up, etc.
Overall I'm happy with the XPS 13 so far. I have yet to take it on the road for a full workout, but I'm happy that Dell is making this available.
While I wasn't unhappy with my MBA, I like to vote with my wallet and so I was happy to encourage Dell to cater more to the Linux crowd by buying this machine. Only by patronizing Linux friendly vendors, early and often, will we see them pay more attention to pretty much the only free and open desktop alternative available.