My indentured servitude to AT&T ended recently and I decided to use that to jump in for another two years but also to get rid of my iPhone 4.
As my three readers are aware, last summer I decided to move away from Apple products toward freer alternatives. I still have a Macbook Air (running Ubuntu – natch) and up until last Thursday I had an iPhone.
I pretty much liked the iPhone, but it was mainly a consumer device (i.e. I didn't create much using it) so I didn't care so much, but I did get frustrated with the terms of service. It was easier for me to freakin' buy the OpenNMS app than it was to spend 30 minutes or so every other month trying to update my project keys so I could check it out and build it. I settled on the Samsung Galaxy S3 as a replacement.
Having used it now for several days, I have to admit that I'm a little pissed at all of the talk about how Samsung (and implicitly, Google) ripped off Apple. Using the S3 is a greatly different experience from using the iPhone.
I almost wrote "totally" but I have to admit that, yes, there is a virtual keyboard, and yes, you can have a page of icons that you press to launch apps, but outside of that there is little in common between the two.
First, the phone just feels different. It is bigger, thinner and feels lighter to me (although in the interest of full disclosure I have a case on the iPhone 4 since without it my calls drop when I hold it in my left hand). The iPhone felt like a dense, solid slab whereas the S3 feels more like a bar of soap, all smooth and round edges. I am afraid that it might squirt out of my hand one of these days.
Next, the user experience is different. The way one navigates Android takes a little bit to get used to coming from iOS, but the fact that in addition to a physical home button I have two soft buttons (one for contextual menus and one for "back") seem to make the UI experience a little cleaner (since there doesn't have to be so many menu icons in the apps). Notifications are different, the way you can control placement of icons is different, and the idea of widgets seems pretty unique to Android. Widgets let you display information without having to actually open an app.
The one disappointment I've had is that the S3 doesn't work with Banshee or Rhythmbox, so it is harder to organize my media files. I am hoping this gets fixed soon.
Android 4.0+ uses the Media Transfer Protocol (MTP) instead of just mounting the filesystem like a USB disk. I can get Ubuntu to mount the phone just fine, but when I launch Banshee it umounts the phone and then hangs. Under Rhythmbox it shows up as a Media Device, but the moment you try to access it (say, right click on it and choose Properties) it kills the app. There is an open bug on that one, but despite its use of Mono I much prefer Banshee.
Now, the S3 ships with the usual amount of kruft that you find on modern technology. Samsung has their own sync technology called Kies (no Linux client of course [sigh]) and I thought it might be interfering with libmtp. So less than 24 hours after I bought the phone I'd rooted it and installed Cyanogenmod (CM9 – not comfortable playing with the CM10 betas just yet).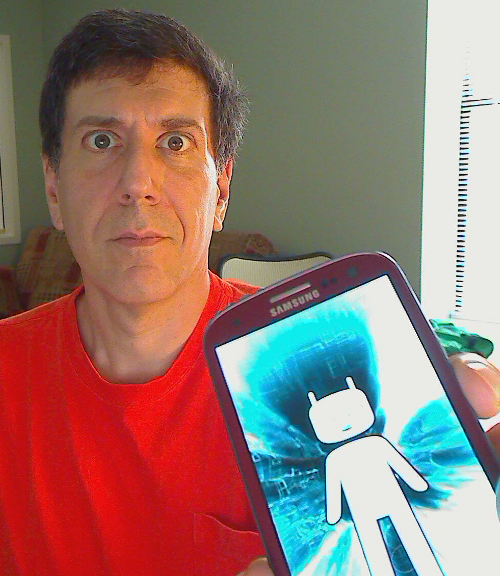 Cool.
Now I don't have any apps I don't want, and I understand what all the apps I have installed are actually supposed to do. I haven't seen any real performance problems with the exception of the camera crashing once and some browser issues that went away when I switched to Chrome.
With the exception of the issue managing my media, I am quite happy with this phone. The screen isn't as crisp as the iPhone 4 but its large size really makes a difference with my aging eyes. But how anyone could confuse the two is beyond me. I hope this patent silliness goes away soon and in the meantime I'm going to vote with my wallet.