One of the favorite parts of my job is OpenNMS training. OpenNMS is a large, complex and powerful system (which is why I refer to it as a "network management application platform" instead of just an application) and it is difficult for someone new to easily get involved with it.
Perhaps you can imagine how much fun it is to watch interested people start out on Day One of our training course finally understanding the basics and end up on Day Five going "wow – OpenNMS can do a crazy amount of things".
It's a rite of passage and it can be a bit intense. So much so that at the end of the week I sometimes feel like I'm dealing less with a student and more with a brother.
This is stronger during our remote training courses. Uwe Bergmann, CEO of our German partner Nethinks, set up training this week at his office in Fulda. This allowed me to go out with the class in the evenings. Usually when I teach I have others things demanding my attention, but when I am overseas it is too much fun to pass up.
Last night we all went out to a local brewery in Fulda called the Wiesenmühle. They had an amazing "Swartz Bier" called "Dunkel" and after a few of those it is hard to say no to a shot of schnapps.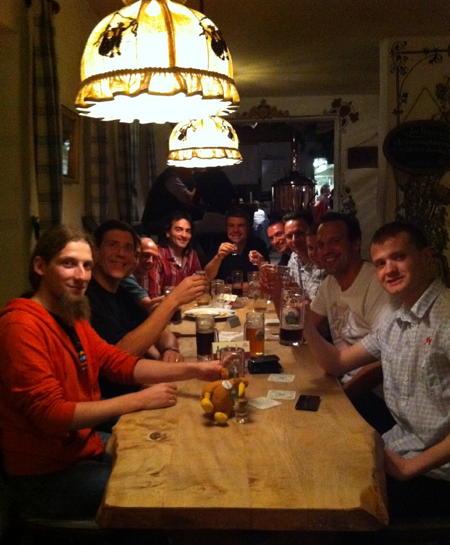 OpenNMS has turned a number of strangers into my friends, but I am more excited about seeing friendships evolve between members of the community.
At this year's Dev Jam, Craig Miskell brought a stuffed Kiwi toy from New Zealand. He gave it to Ronny and Markus from Germany, and now "Ulf" is extremely well traveled – going wherever OpenNMS takes him.
I'm not sure what Ulf was up to last night, but on the left is a card from the Toro Negro Rodizio restaurant where we ate on Monday night, and the one on the right is a card for Stefan Junger, one of our students, featuring his photography website (may not be safe for work).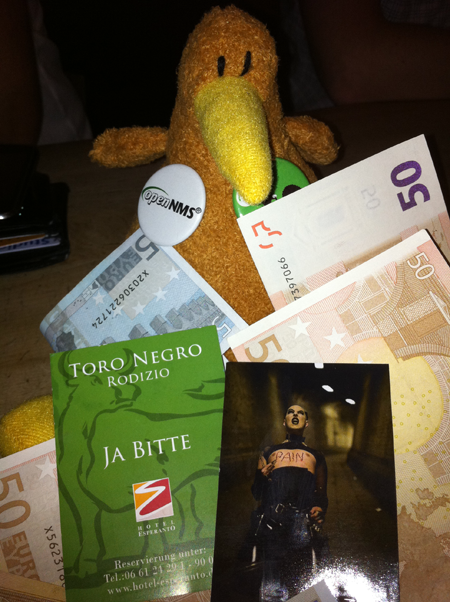 I can't explain all the cash.
While not every student comes up to us afterward and says "this is the best training I have ever had", a surprisingly large number do. It is rare that we do better than break even with training, but the long term relationships (and often future support customers) more than make up for it.
Our next training is scheduled for December. Perhaps I'll see you there.