I've been traveling a lot lately, and a week ago I found myself flying into Harrisburg, PA so that I could visit with our client Hershey Medical Center.
Now I fly pretty exclusively on American Airlines. They tend to be competitive, and since I've had elite status with them for years it makes flying a slightly more pleasant experience.
But to get from RDU to MDT on American was over $1100. This is a trip I can drive in 7.5 hours (assuming DC traffic isn't insane) and I've flown to Europe and back for less. Not sure why it is so pricy, but I had to look for alternatives.
I found a Delta flight for a little over $300 and decided to take it. In the interest of full disclosure, even though the plane had "Delta" on it, all four flights were on commuter airlines contracted by Delta, so my review may not reflect on the airline as a whole.
The outbound trip had me connecting through Cincinnati with a nearly four hour layover, so I decided to spend the extra $39 and get a one day access to their lounge.
When I was younger I hated airline lounges. The only time I got to enter them was as a guest of some executive, and I thought the expense wasn't worth it.
Now that I fly 80K-100K miles per year, I've learned to love my airline club. It is just so nice to have a decent place to sit that's clean and relatively quiet, and in the chance that there is a problem with your plane, the agents in the club are perfectly poised to help correct it. With free Internet usually available, I can even get some work done. Also, by using my company's BusinessExtrAA points, it's even free.
So the first thing I did on this trip was check out the Delta club. At RDU, the two clubs are American's Admirals Club and Delta's Sky Club. My first impression was that I liked the appearance of the Admirals Club a little better, although the Sky Club was still nice. But Delta won hands down on food.
An Admiral's club will usually have some sort of salty snack mix, apples and oranges, and cookies (a ginger, a shortbread and a chocolate chip). Occasionally you'll get veggies and dip, but unless you are in an international first class lounge, that's it.
Delta had a bit more. What got me excited was that they had hummus …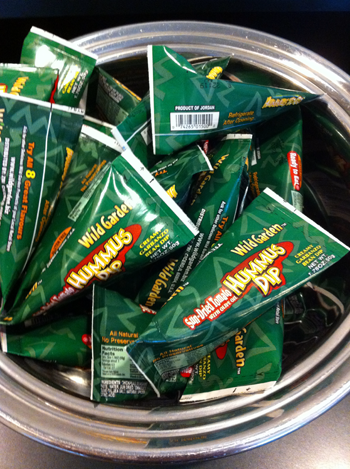 … in a tube.
During this year I've worked hard to drop some weight, and hummus is my go-to snack. It is incredibly hard to eat well while traveling. Delta won my heart with this small gesture. And it wasn't just Raleigh – the Cincinnati club had it too.
As for the plane trip itself – it was quite pleasant as far as these things go. I was able to board without a problem and the planes were clean and newer than I'm used to on AA. Both my planes heading out were delayed, but it didn't impact my schedule all that much. On each one I was offered not only a beverage but snacks as well (pretzels, peanuts and cookies). American stopped offering snacks in coach a long time ago, but you can buy them on some flights.
I'm not sure if this is typical of all Delta flights, and it wasn't so amazing that I will be switching any time soon, but I won't have a problem choosing Delta should I have to in the future. This month I will pass 1.6 million lifetime miles on AA, and since 2 million gets me lifetime Platinum status it is a goal I want to reach.
After that, who knows. Maybe I'll switch.