This is a totally non-OpenNMS, non-open-source post.
Since last March I've been studying classical guitar. I've always wanted to learn how to play and I found a great local instructor in Jonah Garson.
Jonah has been involved in music most of his life, and one of the things he does is schedule and promote musical acts. Next month he is introducing classical guitarist Albert Rodriguez Marti to the United States in a concert in Carrboro, NC.
I can only hope to approximate this man's talent with the guitar in my lifetime. He's been in conservatory since age 11, so he has a bit of a head start.
If you are local and like music, please come on out. I'll be there all dressed up, so if you want to see me in a suit this is probably one of your best chances.
You can track this event on Facebook (if you are in to that sort of thing) or read the information below.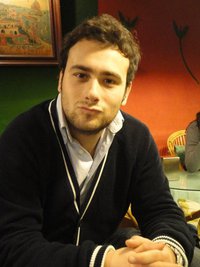 Guitarist Albert Rodriguez Marti begins his American performance career on Sunday, February 27th, with a one-night engagement at Carrboro North Carolina's Century Hall.

Most recently selected as one of four finalists for the Andrés Segovia International Guitar Competition in Linares, Jaen (Spain), Marti will graduate from the Manuel Castillo Conservatory of Seville this spring, with the intention of continuing his studies in the U.S. at New York's Manhattan School of Music under composer David Starobin.

The February 27th program will vaguely trace the development of the instrument and discipline from the Baroque Period through the 20th Century, and will lead off with a performance in full of Johann Sebastian Bach's Suite for Lute BWV 997 in A minor.

~ GENERAL ADMISSION ~

~ DRESS ATTIRE RECOMMENDED ~

~ PURCHASE ADVANCE TICKETS SECURELY ONLINE ~
http://www.brownpapertickets.com/event/145157

For more information about the program or purchasing tickets contact producer Jonah Garson at 919.619.5467.

PROGRAMME
GUITAR, BAROQUE to XX CENTURY

PART ONE
Johann Sebastian Bach (1685-1750)
Suite for Lute BWV 997 in A minor
Prelude
Fugue
Sarabande
Gigue/Double

Johann Kaspar Mertz (1806-1856)
Elegie

Salvador Brotons (1959)
Two Sugestions
Balada
Tocatta

PART TWO
Joaquín Turina (1882 – 1949)
Sonata Op. 16
Allegro Moderatto
Andante
Allegro Vivo

Antonio José (1902-1936)
Sonata
Allegro Moderato
Minueto
Pavana Triste