Other people have posted about this before, but it is a lesson that bears repeating. Getting help from an open source project is not like getting help from a commercial software company. In the latter case, one has exchanged money for software and so can expect a certain amount of assistance.

Open source is different. In most cases the majority of the people who work on a project are volunteers. Complaining about the timeliness of free support from such a community is like getting a free Mercedes and complaining about the color.
First off, anyone who deals with forums on-line, open source or otherwise, should read Eric Raymond's seminal "How to Ask Questions".
Second, here's how to get someone like me to *not* help you.
On the OpenNMS discuss list, we've had a user post 53 e-mails since Thanksgiving. The last several have concerned monitoring MySQL with OpenNMS. There are a number of ways to monitor MySQL using the platform, and people have been trying to help him out.
Unfortunately, we get replies like this:
STILL I AM UNABLE TO SEE THE DATABASES GRAPH. I HAVE EXACTLY FOLLOW YOUR DOCUMENTS AS IT IS I DONT KNOW WHERE IS THE PROBLEM COULD U ATTACHED THE /ETC FILES TO ME AND ALSO THE GRAPH PICTURE WHICH U ARE GETTING RIGHT NOW.
As most people know, posting in all caps is the equivalent of yelling. Yelling that you wanted a silver Mercedes when you were given a black one is rather rude and probably has a negligible effect on getting a different color. And don't get me started on top posting.
But I guess the mailing list wasn't good enough for this user. He decided to call our office.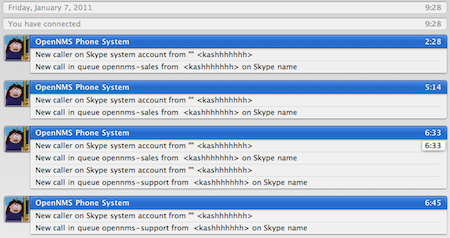 Now, we are mainly located on the east coast of the US, so calling me numerous times, starting at 2:28am, is also not going to win you any friends.
But hey, there is always Facebook, right? Posting something like:
you all are looking good but i am still not satisfied with opeenms because opennms help is not good like microsoft. i want to get the license of it bus my initial requirment is to monitor mysql databases in it which is not yet complete
will get results, right? After all, companies like Microsoft are renowned for their high level of support, and I'm sure posting a comment on Microsoft's Facebook page would cause hundreds of people to drop what they are doing to help you.
When all else fails, you can post a message on the OpenNMS Group contact page (which, of course, specifically mentions not to do this for support):
I am very dishard about the opennms help. I have submit my problem a lot of time but no proper solution were recived yet. why? My problem is i want to monitor mysql table spaces etc in opennms using jetty is it possible or not just tell me yes or no
So I replied: "Yes".
(sigh)
Look, literally tens of millions of dollars *that I can document* have gone into making OpenNMS, and that doesn't include the tens of millions of dollars worth of donated time and effort. Throwing an online hissy fit won't get you help any faster.
And I hate the "well, if you just get OpenNMS running for me I'm sure I'll buy a support contract later" line. It's like going to the doctor and asking him to treat you for free on the off chance that if you feel better you might pay him. I can count the number of times someone has led with that line and actually bought a contract on each one of my rippling, six-pack abs.
When I first started out providing services for OpenNMS, I got a call from Motorola. They were considering OpenNMS, and they wanted me to come out and show it to them (i.e. fly to Texas). I pointed them to our "Getting to Know You" package where I would fly out and spend a couple of days showing them how it works on their network. They were aghast. How could I possibly ask them to pay for something like that? Even pointing out the fact that OpenNMS was free software and that once installed they could both own their solution totally and not have to pay license fees couldn't get them past the fact that I was asking them to pay for "presales".
Trust me, you don't need customers like that. Customers that "get it" will have a competitive advantage. This will eventually allow them to provide better service to their customers (either through a better solution or cost savings put to other use) and thus distance themselves from their commercial software-using competitors.
While I doubt OpenNMS had anything do to with it, ask yourself what was the last model of Motorola mobile phone you owned? Did it come in a bag?