Having started out in the telecom industry (back when it was different from datacom – yes, I know, I'm old) I was always a fan of Fluke test gear, so I find it kind of amusing that they've decided to pick on OpenNMS to promote their latest commercial network management tool, OptiView.
I didn't even know Fluke was in the network management business, so I was surprised when someone sent me a link to their website in which they feature part of an OpenNMS screenshot as their "wrong way" example.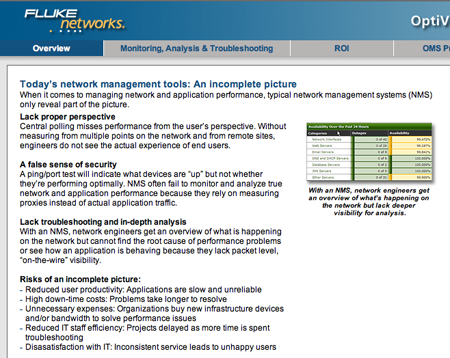 I'm pretty certain they just grabbed this image off of the web because the text of the page could read as an advertisement for OpenNMS. They obviously didn't do their homework. I thought it would be a fun exercise to examine their claims in the context of our project.
Lack of Proper Perspective
In this paragraph they state "Central polling misses performance from the user's perspective". This is true, and it is why OpenNMS has a remote poller that performs synthetic transactions from the point of view of remote end users and integrates with most popular mapping software so that engineers can easily pinpoint problems. This is in use at nearly 3000 sites worldwide for Papa Johns Pizza – it would be interesting to know if Fluke has an install on that scale, and if so, how much it would cost.
A False Sense of Security
They lost me a little on this one, but they seem to be saying "our monitoring is better than your monitoring". OpenNMS has multiple levels of monitors, from simple ping/port checks up to capturing the full user experience with the Page Sequence Monitor and the Mail Transport Monitor. When OpenNMS polls for service assurance, it is, for all practical purposes, a user of network services and it reports back what a user would experience.
Lack Troubleshooting and In-depth Analysis
This section states the need for root cause analysis and "packet-level 'on-the-wire' visibility.
Well, as for root cause, OpenNMS duplicates the functionality of such classic management products as Netcool/Omnibus and Netcool/Impact, so I'm pretty certain it can address whatever it is OptiView claims to do.
As for packet-level inspection, this is one area that OpenNMS does not cover. One of the reasons is that with today's large and distributed networks, it is not feasible to monitor every single packet on the network. What OpenNMS does do is indicate areas where there are problems, and then engineers can take their packet sniffer and investigate further. We often use Wireshark in diagnosing customer issues, once OpenNMS determines the part of the network needing attention.
Risks of an Incomplete Picture
This list of bullet points is pretty valid, but the assumption that tools like OpenNMS provide "an incomplete picture" is patently false. I tried to download their "NMS Risks & Shortcomings" white paper but got an error message "This area of the site is temporarily unavailable." Heh.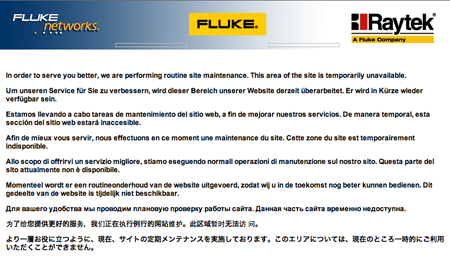 This is typical FUD from a commercial company trying, and failing, to differentiate itself from other underpowered and overpriced commercial software tools.
But I must say I'm somewhat flattered by this since our goal with the OpenNMS project is to make every decision about a network management solution to include the question "Why aren't you using OpenNMS?"
I'm hoping than everyone who might find this site asks themselves the same thing.