At OpenNMS we are thankful that we have clients who believe in us and use our services. As a result, we also try to buy from them when we can. Our shirts come from Lands End (since Sears is a client). I always request a USA Today paper when I travel, since they've been using OpenNMS for years.
And we luvs us some Papa John's pizza.
We've had three guys up to PJI headquarters in Louisville working on OpenNMS, but I'm the only one who missed out on a tour of the dough room (sigh). I did get to see the famous Camaro that you'll see featured in some of the ads.
Anyway, this week is a training week, and I am in charge of getting all of the students fed at lunchtime. We don't have a Papa John's in town, but Phil was coming down through Chapel Hill and offered to pick up some pies.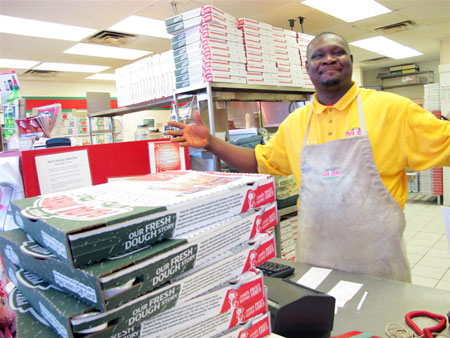 Lucky Ihenyen at the Chapel Hill Papa John's
I love training week, but man does it take a lot out of me. Yes, even I have a problem talking for eight hours straight. We have eight people in training, which is just one shy of our maximum of nine (we keep our classes small on purpose) so it has been a lot of fun with lots of great questions.
We have two guys up from Honduras, two over from Seattle, two down from Ottawa, one guy from Atlanta and a new hire who is local.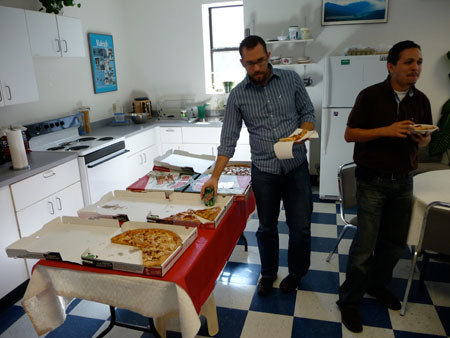 Everyone seemed to like the pizza, and it was fun ordering it on the web especially knowing that OpenNMS was insuring the service was working (and of course, it went flawlessly).
Remember – never re-heat pizza in a microwave as it will destroy the crust. Place it in a hot oven (350F) and wait until the cheese just starts to bubble.
Yum.
I can't wait for the Super Bowl, as my party will be catered by Papa John's (grin).