I got the first shipment of blue polos today. I'm teaching class this week so most of my admin time is in the evening, but I hope to get them out soon. Please send us a picture of you in your shirt so we can add it to your OBP page.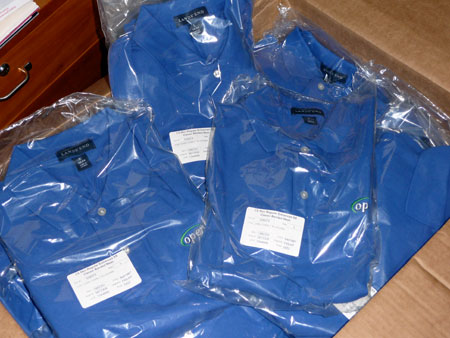 Thanks to everyone who took the time to write up a testimonial about OpenNMS, and thanks in advance to those of you who plan to write one soon.
For people in the US, you should have your polos no later than next week, and for everyone outside of the country, it should take no longer than two weeks (except for you folks down in Oz – don't know why it takes so long to ship stuff there).
Oh, on a side note, imitation is the sincerest form of flattery. I saw in the April newsletter of another management company that they have started a similar program, except instead of sending everyone shirts they are giving away two (2) Netbooks.
We must be doing something right if a company that has spent millions on marketing is taking cues from our little operation down in North Carolina. Plus, when you have raised US$14 million, nothing says love like a $300 Netbook.
We can't compete with our $35 Lands End polos, but they sure feel nice against the skin. (grin)
Thanks again and keep 'em coming.