Okay, my day was going pretty well. I'm am trying desperately to finish an RFP. I'd caught up on mail and tickets, and although I'd rather be outside (since it is a beautiful spring day) I finally got focused on getting my reply written.
I take a little break and what should I find on my RSS feed but a post by Matt "I live to press Tarus's buttons" Asay featuring a cute little VW microbus and my blood pressure went skyward again.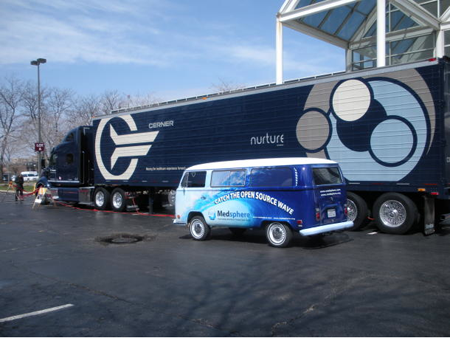 Photo yoinked from here
If you want to see me rant about the abuse of the term "open source" you really have to look no further than Medsphere. In fact "Remember Medsphere!" is my rallying cry to caution other entrepreneurs about being careful while seeking investment.
Medsphere was founded by the Drs. Shreeve (Scott and Steve). They accepted investment, proceeded to develop their software, released it on Sourceforge and were promptly sued by their investors for US$50 million. The suit listed twelve counts including violations of RICO, which if found true could have left the Shreeves penniless.
An interview with Fred Trotter gives a good summary of the situation.
They eventually settled the lawsuit, but I don't know the details. Steve Shreeve blogged about the situation while he was still involved with the company, but he hasn't posted in nearly 2.5 years and as far as I can tell he and his brother are not involved with the company they founded. I can't help feeling that he knew these actions had destroyed Medsphere's open source credibility and he was trying to boost it back up, but his non-involvement with the company seems to provide proof that it wasn't to be.
Cool bus or not, I find it hard to believe that Medsphere is the example we in open source should be striving to emulate. It is the prime example of a company using the term "open source" to market proprietary software. It takes more than a hippie bus to embrace hippie ideals, but I think in almost every value system Medsphere got it wrong.