For those three people who read this blog, I was wondering if you would mind posting the number of devices, interfaces and services you monitor with OpenNMS?
I'm in Chicago where the client has 2718 nodes and nearly 100,000 interfaces. The interfaces count is a little larger than we usually see, but the node count is on the low end of average.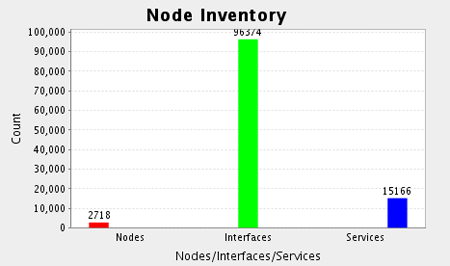 I'm curious to know what others monitor with OpenNMS. I've asked Ben to consider making a little "OpenNMS Fan Club" app that people can optionally install that will send us this information anonymously, but he hasn't had the time.
Oh, and Jeff has fixed the "clipping" issue on the chart in what will become 1.6.3.