Today we will finish our training and we'll head to the airport to start our trip home. One more hotel room and one more night in a strange bed.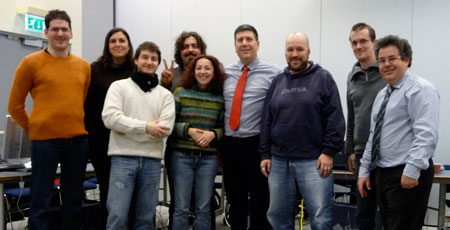 The Gang at the Milan Training Course
It's been a good week. One thing I love about working with OpenNMS is that since we don't do any marketing our clients are pretty much self-selecting. They have an interest in OpenNMS and, with respect to training, a desire to learn about the product that makes teaching a pleasure.
As eager as I am to get home I will miss the food here. I consider myself very adventurous when it comes to eating different things, but even I was a little surprised at the … variety … of food served on the fish crudo plate Antonio ordered for us a couple of nights ago. It takes a little getting used to when your seafood is so fresh that it moves when you sprinkle lemon on it.
The next big trip will be Frankfurt in March for the first OpenNMS Users Conference. We have quite a few people signed up already, and there is even one guy coming from Oregon so while it is being held in Europe there is no reason to limit it to just Europeans. Remember that the early bird registration discount will end soon, so be sure to sign up for a day filled with examples of how OpenNMS is used in the real world taught by the people who create it.