I am starting my third week in Australia. The trip has been pretty fun so far, but I am ready to be home. While I was happy to trade the coolness of a Sydney winter for the heat of a North Carolina summer, I have come down with a sore throat. It may be the result of a cold but it could also be due to all of the talking I have been doing. I'm thinking it is some of both.
Last Saturday I got up and tried to find a laundry. Usually the hotels I stay in have a couple of coin-operated machines, but not this one, so I found a place on Google maps, loaded up my clothes and hiked there (it was about a mile and a half away).
When I arrived it was little more than a room added on to a woman's house, clearly designed for people to drop off their clothes and return later versus self service. She was nice about it anyway so I sat outside and read while my clothes got clean. Then I hiked back to the hotel and took a nap.
That evening I went over to North Willoughby. It was my first time taking a train to the northern shore and when we came out of the tunnel into the harbour I was looking around trying to find the Harbour Bridge in order to get my bearings, and it wasn't until I looked down and saw Luna Park that I realized I was on the Harbour Bridge.
I had been kindly invited by Craig to come over to his house for a home cooked meal. It was a lot of fun and definitely a treat over eating out in restaurants the rest of the week.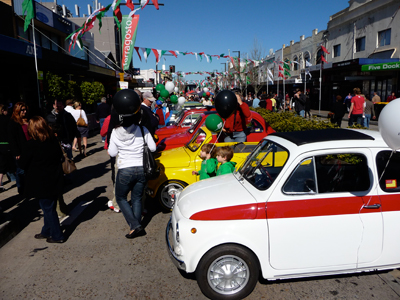 Cars at the Five Dock Italian Festival – All right hand drive
On Sunday, Paul, my contact at the client who brought me here in the first place, came over with his son Alex and we wandered around greater Sydney. The first stop was an Italian street festival in Five Dock, followed by a trip into Sydney proper. We visited the fish market, which was simply amazing. While I have been to fish markets before, including San Francisco and Seattle, the sheer variety was staggering. There was a whole section of "shrimp and things like shrimp", a section containing all sorts of oysters, as well as the wall of "big fish you can eat".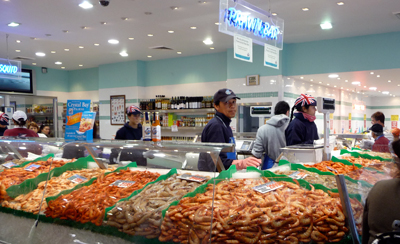 The prawn section as the Sydney Fish Market
We ended up eating there and afterward wandered around Darling Harbour to help walk off the meal.
On Monday I boarded the train for Burwood, which is home to Ursys. Ursys provides broadband over satellite. Since much of Australia is very remote from large population centers, as well as home to a lot of mining companies who spend time out there, the only way to get Internet access for much of the country is via satellite. I was reminded that I actually had discovered them back in 2002 when I was limited to satellite at the farm as they had a linux solution for DirecPC, but due to licensing they could only sell it as an appliance so I didn't get it (and I believe the product no longer exists).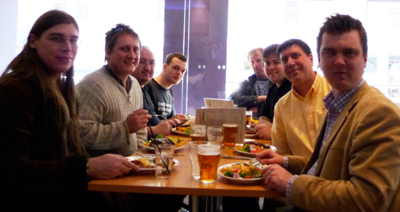 The Gang from Ursys
There I met with Jessica Mayo who restored my faith that OpenNMS is accessible even with its lack of documentation if you are persistent enough. Jess had managed to figure out a lot of the OpenNMS functionality – even the advanced stuff – on her own. I was able to provide some suggestions to solve a couple of their outstanding problems, and the whole team took me out to lunch.
Tuesday found me on a bus to visit with a large communications provider. One thing a love about my job is being able to visit amazing enterprise and carrier class networks. As they say down here, there was an enormous amount of "kit" to be seen – all sorts of equipment from vendors both old and established as well as cutting edge. We are working to replace their OpenView installation with OpenNMS, so it should be fun as well.
I also came across a great story. The director of the department had found some "microbe plush toys" on thinkgeek.com and ordered a number of them for her team. When they arrived at Australian customs they were held up, because apparently the inspectors focused on words like "E. coli" and "Black Plague" instead of "Novelty Toys" on the invoice. They charged her extra for the inspection and I can only wonder what that entailed. Was it a bunch of guys in bunny suits or more along the lines of "hey new guy, come open this."
Wednesday found me back in North Sydney visiting the offices of ICE Systems. They have a delightful take on what a conference table should be.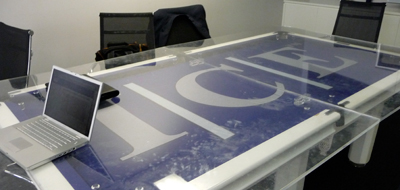 The Conference/Pool Table at ICE
ICE is a systems integrator that is beginning to focus on open source. I talked at length with Lee Curtis who has a lot of amazing ideas on how integrators can serve as the conduit for open source solutions in the enterprise.
That night I made it back to Darling Harbour to see The Dark Knight at IMAX (which is supposed to be the world's largest movie screen). Even midweek the place was pretty crowded, but it was worth it (if you are in to that sort of thing). I won't spoil it for those who haven't seen the movie, but the only complaint I had was Christian Bale's gravelly voice when he was in costume. Seemed a little forced and unnecessary to me.
Thursday I took a day off from visiting clients to catch up on work. I also made a side trip to Fraser Motorcycles to get an Australian Harley Davidson T-shirt for my collection (remember the OpenNMS polo offer is still open).
Friday found me as far north as I have been in Australia. After a one hour train ride and an hour on the bus I found myself near Elanora Heights and the offices of NetStrategy. We have been working with Jim Boyle for a couple of years now and his group uses OpenNMS to monitor a number of their clients' networks. It was nice to finally meet him in person.
That evening Jim drove me back down to the ICE offices where after getting my butt kicked at pool, we were joined by Craig and we went off to the Belgian Bier Cafe in Cammeray for dinner. It was a nice end to a hectic week as we discussed food, beer and open source.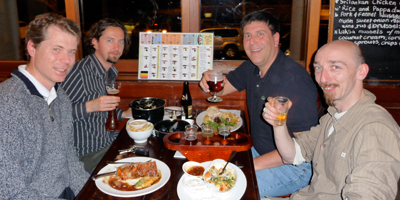 Jim, Craig, Me and Lee at the Belgian Bier Cafe
Yesterday, I got up and did laundry once again (I found a slightly nicer place a little farther away than last week) and then Paul picked me up and this time took me to see a National Rugby League double header at Olympic (ANZ) Stadium. I have never been to an Olympics so it was cool to wander around the grounds and wonder what it was like at the height of the games.
I also find a like rugby (no "league" versus "union" rants please). The first match was between the Wests Tigers and the Manly Sea Eagles. I was hoping the Tigers would win but it was not to be (they were thoroughly routed by the Eagles). The second game was much closer. It was very cold so I purchased a sweatshirt and scarf featuring the Bulldogs, which didn't go over so well with the Parramatta Eels fans around me, but Paul was pleased. The Bulldogs lead at the half 12-6, but they were not to score again and lost 12-26. My yelling might have had something to do with my throat as well.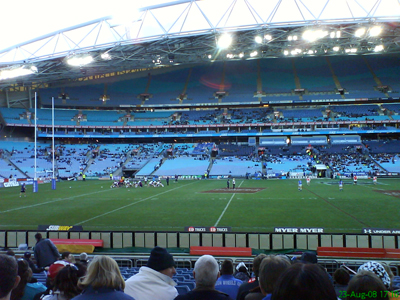 Rugby at Olympic Stadium
For those in the US, here is a short overview to help relate American football to Rugby League (as far as I understand it).
The game takes place on a grid 100 meters long (versus 100 yards). The object is to score a "try" (i.e. touchdown) by grounding the ball within the scoring area (similar to the end zone in American football, but the goal post is on the line not behind it). The ball is similar to a football but less pointy and more rounded.
Note that to score a try the ball must be intentionally grounded with force – simply breaking the plane of the try (goal) line is not sufficient, and I saw the Bulldogs denied a score simply because the player was so wrapped up by Eels that he was unable to touch the ball to the ground.
The ball is moved forward by running and carrying it, just like in American football. However, the ball can only be passed backward. Forward movement, even accidentally as in a missed catch, results in a penalty. Outside of running, the ball can be kicked forward. The ball can be passed backward at any time.
Instead of the four "downs" of American football, a scoring attempt is a series of six "tackles". On the sixth tackle the ball must be kicked, which results in a score or a change of possession. A score can occur if the ball is kicked into the scoring area and recovered by a member of the kicking team. The caveat is that the player must have been behind the kicker when the ball was kicked, so usually a kick results in a change of possession as the defending team is in better position.
The only way to get another set of six tackles is via a penalty, unlike the American football idea of a new set every 10 yards.
There is no strict realignment of players after a tackle, such as in American football. The defending team simply moves 5 meters down field as the offensive team kicks or rolls the ball backward to a player who then attempts to move it forward once again.
A try results in 4 points (versus 6 for a touchdown) and is followed by an attempt to score a "goal" by kicking the ball through the goal posts (the goal is worth 2 points versus the 1 for an extra point, although they are analogous). The attempt is not blocked by the opposing team (everyone just sort of stands around). However, the ball is placed behind the 10 meter line at the point where the try was made. Since many tries are scored at the very corner of the field these kicks are often at a sharp angle. The kicker has the option to place the ball farther away than the 10 meter line if they choose, but not closer.
There is also a "field goal" which is scored when a team drops the ball and then kicks it through the goal posts after it bounces once. Sounds tricky and I never witnessed one, but if successful scores 3 points.
There are a number of other rules but that is my understanding of the basics. Occasionally the play of the ball has to be reset, which is done via the "scrum". With 13 players on a side, each side supplies six players to lock together in a circle while the ball is passed through the legs of the offensive team. The scrum is necessary to keep everyone from just piling on top of the guy with the ball at the start of play.
The game consists of two 40 minute halves with a 20 minute halftime break. Like soccer, the clock rarely stops, but unlike soccer no time is added on at the end.
And yes, there are cheerleaders. The ones for the Bulldogs resemble the cheerleaders for the Dallas Cowboys. However it was so cold they wore long coats for much of the game. Wrapped in my Bulldogs scarf and "jumper" I understood completely.