I started maintaining OpenNMS in May of 2002. By early 2003 the company was doing well enough that I decided I needed a little reward for all of the 80 hour weeks, so I bought a 12″ Powerbook the day it was announced, and I also ordered an iPod.
Back then I traveled as much as I do now, and having something like an iPod helped make the trips more pleasant. However, I wasn't happy with the default earbuds when it came to dealing with the noise of the aircraft cabin. All the road warriors were buying the Bose noise-cancelling headsets so I decided to check them out.
I didn't like them for two main reasons. First, they were large. When you schlep bags through airports for a living you want things as small and light as possible. Second, they required a power source. I am constantly being let down by my battery powered devices and I didn't want to have to deal with another one.
It was then I learned about a company called Etymotic. They pioneered the idea of audiophile-quality in-ear headphones. Think of it as earplugs with amazing sound. They basically block out all sound waves except for that which comes through the bones of your skull, plus they are lightweight, small and require no external power. Most of the reviews I read had the Eymotics beating the Bose hands down.
Ben Reed had gotten a set of ER-4Ps and he let me try them. They were as amazing as I had been lead to believe. While they don't block out all sound, as long as you have something playing through them you really can't hear anything else.
So I bought a pair. At the time they were a little more expensive than the Bose (around US$350) but they saved my sanity on more than one occasion. Now when I sit down on a plane and notice the infant (or infants) in the row next to me, or the loud group of college students, or practically any other possible source of noise pollution, I smile, put in my 4Ps, and relax.
Now something like 300,000 air miles later, my 4Ps had seen better days. The insulation had rubbed off in a few areas, but the death knell came on my return from Europe when the right earphone went out.
Grrr.
So I called up Etymotic and found out I could get them repaired for about US$50. Off they went, and a week later I received some bad news. After the cables were replaced, they tested the 4Ps and found some slight distortion on the right earphone. Since they have to repair them in matched sets, they just decided to send me a whole new set of 4Ps.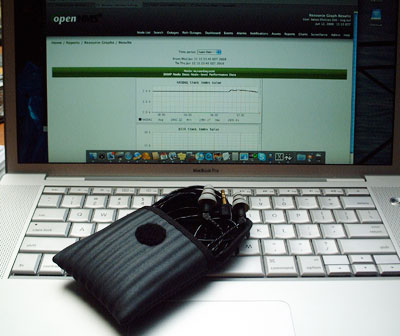 Wow.
That's what I call customer service, especially with a product this expensive (although they've come down in price about half since I bought mine originally). If you're looking for some high quality headphones, please check these out.