For the end of the first day of TMW, Nokia Siemens hosted a "networking event" at a medieval castle situated up on the hills that surround Nice.
Unfortunately, they didn't count on road construction so it was taking the buses over an hour to get there from the convention center. While Craig and I were waiting in line, we had a pretty amazing conversation that went something like this:
Stranger: Excuse me, where did you get that shirt (pointing to Craig's OpenNMS shirt)
Craig: Oh, I work with the OpenNMS project.
Me: I have one too.
Stranger: Oh wow, I read your blog!
Me: What?
Stranger: I read your blog on OpenNMS.
Me: I don't believe you.
Stranger: Then let me ask "How are you feeling today?"
Me: Wow.
Seriously, if I thought people actually read this thing I might put a little more effort into it. I don't really care about things like "hits" and "downloads" as a measure of success, so I really haven't checked to see if anyone reads it. Perhaps I should, and maybe I should be a little more "politically correct" while I'm at it, too.
Nah. (grin)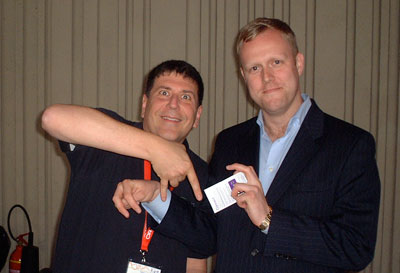 Me and Carl doing da gangsta OpenNMS sign, yo
The stranger's name was Carl, and he and his friend Jan work for a company in Sweden called Tail-f Systems that provides tools for networking device manufacturers to build network management systems to implement the standards required by large enterprises and carriers. The name comes from the Unix command "tail -f" which is a basic method used to monitor logfiles. Cool, huh?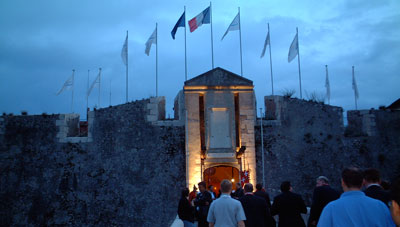 Anyway, we finally made it to the castle and had some decent food surrounded by people in period costumes (shades of the festival in Andilly). There were people on stilts, musicians and "demonstration areas" focused on aspects of medieval life.
I went to one of the demonstration tables and picked up a crossbow. Unfortunately, I didn't understand the instructions and proceeded to shoot the target in the face (I missed the fact that the other targets were apples). After being corrected by the host of the booth ("you shoot my son!") my next two shots took out apples, and this was captured by one of the cameramen for TelecomTV. Three for three, not bad for a fat geek with bad eyesight.
More on my thoughts about the conference tomorrow.