I awoke feeling much better today, but still not 100%. The beauty of the area definitely made things better. If you find yourself in this part of the world consider staying at La Bergerie. Mdm. Chantier speaks French, Italian and English, and her bed and breakfast is in a renovated farm house built in the 1700s. It's beautiful.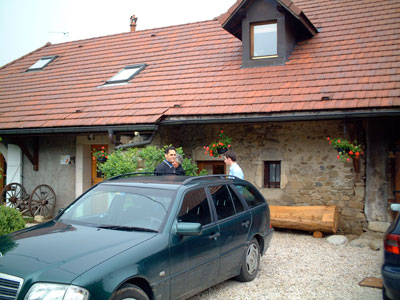 David, Mdm. Chantier and Alex
Alex met us in the morning, and after coffee we headed into Geneva. Swisscom is now in a fancy new building (owned by Dupont) near the airport, and I think it is a much nicer office than the place they used to lease.
We had some meetings about OpenNMS in the morning, and then we met Steve Adams from Linalis for lunch. Linalis is a systems integrator here in Geneva and we are hoping to partner with them to offer OpenNMS solutions.
Lunch was short since Steve had to run to a UNESCO meeting in preparation for LinuxDays coming up later this week. Alex is giving a talk on the tools Swisscom uses, and will include OpenNMS. There is a big push for open source in Switzerland (all of the schools are moving to open source) and so there is also a lot of opportunity here for free and open projects.
I had some free time after lunch, and so I am striving to get caught up. I am disappointed that we won't meet Berkay Mollamustafaoglu. We were supposed to get together before we head to the airport, but he had a child care issue and had to cancel. Perhaps next time.
Speaking of canceling, I reluctantly canceled our TGV trip across France. There is a train strike on Thursday, so we're taking a plane to Paris. We are meeting with a large company that did a comparison of 12 projects and has settled on OpenNMS to manage their large network. I've never been to Paris so it should be fun.